How to provide water and sanitation for millions of refugees?
Monday 24 August | 14.00-15.30 | Room: M6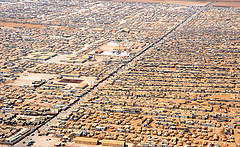 In 2013 more than 10 million individuals were displaced due to conflict or persecution. About 3.3 million individuals were displaced just from Syria into the neighbouring countries. The massive immigration increased the pressure to supply an increased number of immigrants with potable water and basic sanitation.
Most of the potable water in the Middle East is provided by groundwater. The first priority is to provide additional safe potable water to refugees in the camps as well as to the Jordanian host communities without compromising the needs of the Jordanian populations. Therefore, one important factor is to identify the most suitable regions for refugees camps and hosting communities, where sufficient groundwater is available and the settlement of refugees would not have a negative impact on the quality of water resources. Often the unregulated inflow of refugees requires urgent reallocation of water resources. In this context an improved well field management and allocation planning can help to increase the efficiency and sustainability of drinking water supply for refugees and hosting communities. These aspects need to be reflected in a national strategy. Beside the management, international funding is required to finance the adaptation of water supply and sanitation infrastructure to the refugee crisis.
Programme
How to provide water and sanitation for millions in a refugee crisis?
Moderation: Vanessa Vaessen (Project Management "Policy Advice Groundwater, International Cooperation, BGR)
14:00-14:10 Welcome and opening
Mr. Franz-Birger Marré, Federal Ministry for Economical Cooperation and Development (BMZ)
14:10-14:30 Response of the MWI to the Refugee Crisis in Jordan ensuring a safe drinking water supply for all
Dr. Hazim El Naser, Minister for Water and Irrigation, Jordan (MWI)
14:30-14:45 Water Supply and sanitation for Syrian Refugees in Host Communities in Jordan
Manuel Schiffler, (Kreditanstalt für Wiederaufbau, KfW)
14:45-15:25 Podium discussion
Dr. Hazim El Naser, Minister for Water and Irrigation, Jordan(MWI),
Francesca Coloni, (UNHCR, Senior Regional WASH Officer),
Ismael Nouns, (GIZ, Jordan),
Manuel Schiffler, (KFW),
Armin Margane, (BGR Jordan, Project leader)
15:25-15:30 Closing