Water-related Disaster Risk Reduction: Time for preventive action
Sunday 23 August | 16.00-17.30 | Room: FH 202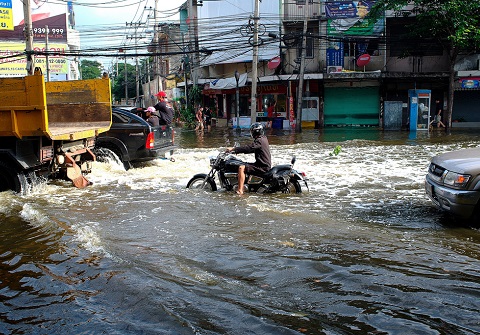 Climate change is exacerbating the extremes in hydro-meteorological events. Together with other global drivers under change – population growth, rapid urbanisation, increased asset values – this may result in increased frequencies and even higher impacts of water-related disasters. In recent years an integrated, adaptive approach has been developed based on the recognition that risks, if not properly addressed in advance, may lead to the occurrence of disasters. Its widespread and effective implementation requires a reframing of the paradigm of disaster risk management from its traditional focus on mitigating the impacts of disasters to a broader focus on prevention, mitigation, preparedness, and vulnerability reduction, and an integration and mainstreaming into sustainable development policies, planning and programming at all levels: globally, nationally as well as locally and at community level.
The seminar will be the opporunity to discuss about the a post-2015 framework for water-related disaster risk reduction by showing some cases of integration of the risk reduction approach into the policy development and planning, referring to the results of the Third UN World Conference on Disaster Risk Reduction in March 2015 in Sendai, Japan.
Programme
16:00?Welcome and setting a scene by Mr. Kenzo Hiroki, Vice President, College of Land, Infrastructure, Transport and Tourism (CLITT), Ministry of Land, Infrastructure, Transport and Tourism of Japan / Member of UNSGAB / Coordinator, High Level Experts and Leaders Panel on Water and Disasters (HELP)
16:10 Opening message by Mr. Thomas Gass, Assistant Secretary-General for Policy Coordination and Inter-Agency Affairs, UNDESA
16:15 Keynote presentation on "water for sustainable development and Disaster Risk Reduction" by Ms. Josefina Maestu, Director of United Nations Office to Support the International Decade for Action
16:30 Questions and discussions with participants
16:40 Panel Debate on how "water" can be centered in sustainable development and climate change discussions?
- Mr. Bo Libert, UNECE Regional Advisor on Environment
- Ms Malinne Blomber, Chief Financial Analyst, African Development Bank
- Mr. Eduardo Mestre, Senior Water Resources Management Specialist and Special Adviser, CONAGUA, Mexico
- Mr. Bert Diphoorn, Advisor, External Relationsm, Akvo
17:25 Summary and wrap-up by moderator