Making Transformational Gains for Gender Equality through WASH Policy
Wednesday 26 August | 11.00-12.30 | Room: FH Congress Hall A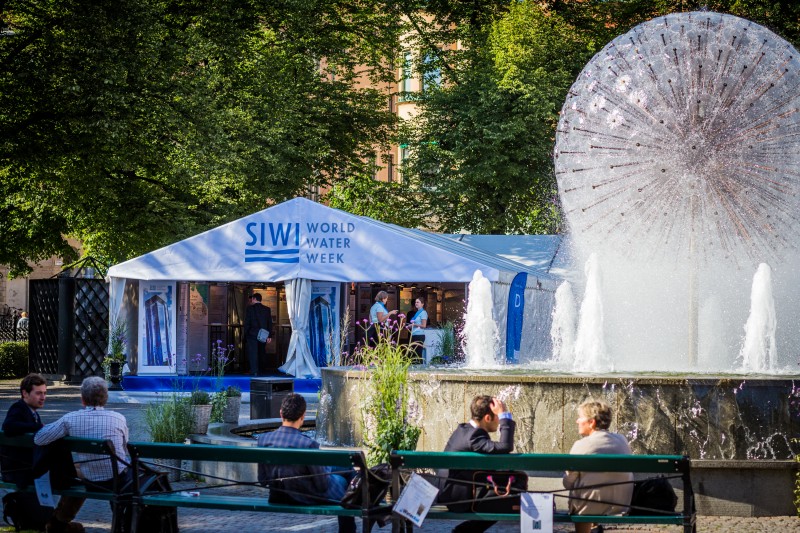 This event will showcase policies, strategies and practices of select countries and development organizations aimed at enhancing gender equality in the WASH sector. Both national and partner agency policy frameworks are critical for institutionalizing and sustaining gender equality in programs and projects on the ground. Equally important is how policies are translated into practice, and the use of appropriate indicators to measure results. The session will bring together key donors and country representatives to promote dialogue and learning on the following:
What is required to integrate gender into country WASH policies, strategies and practice to assure effective implementation?
What have development organizations' learnt from implementing their gender policies and strategies, and how do they plan to strengthen gender equality in WASH during the SDGs?
How could countries and development agencies harmonize indicators for collection of sex disaggregated data to facilitate national and global monitoring?
The deliberations will promote understanding of what works and what does not in promoting gender equality through WASH. The groundwork for longer term partnership between sector agencies and client governments will be forged by discussing indicators in the sector, and strategies for narrowing the gap between policy and practice for enhanced impact and sustainability.
Programme
11:00 Welcome by moderator
Jyoti Shukla, Snr. Manager, Water Global Practice, World Bank
11:05 "The UK Government International Development (Gender Equality) Act 2014'
Jane Crowder, Water and Sanitation Advisor, Department for International Development (DFID)
11:15 "New Gender Policy and Strategy of the World Bank Group"
Bénédicte de la Brière, Senior Economist, Gender Cross Cutting Solution Area, World Bank

11:25 Q&A

11:30 "Integrating Sida's Gender Tool-Box within Swedish support to Water, Sanitation and Hygiene programs"
Carolina Wennerholm, Lead Policy Specialist Gender, Swedish International Development Agency (SIDA)

11:40 "Pink Pipes and Tea Servers: Transforming Women's Role in Water Utilities"
Anupma Jain, Senior Social Sector Specialist, Urban Development and Water Division, Southeast Asia Department, Asian Development Bank (ADB)

11:50 "Gender Sensitive Water Assessment, Monitoring and Reporting"
Francesca Greco, Water and Gender Focal Point, Regional Monitoring UN World Water Assessment Program, UNESCO

12:00 "Emerging Lessons from a Global Review of Gender Dimensions in Country WASH Policies"
Bhuvan Bhatnagar, Lead Water and Sanitation Specialist, World Bank

12:10 Q&A, discussion

12:25 Summary and wrap-up by Jyoti Shukla, Snr. Manager, Water Global Practice, World Bank
Conclusion
Making transformational gains for gender equality through WASH policy – event summary and conclusions
Session chaired by Jyoti Shukla, Senior Manager, Water Global Practice, World Bank Water and Sanitation Program
The way we perceive gender has changed quite a bit in the past 15 years. As we transition from the Millennium Development Goals (MDGs) to the Sustainable Development Goals (SDGs), the sector needs to promote a shared understanding of gender, and adopt indicators to monitor gender in water, sanitation, and hygiene (WASH) programs at country and global levels. This will contribute to measuring sector impact over the next 15 years. At the 2015 World Water Week in Stockholm, the Asian Development Bank (ADB), Sida, the UN World Water Assessment Program (WWAP), and the World Bank Group shared lessons learnt in integrating gender in country and partner agency policies and strategies, to realize gender transformative impacts on the ground.
Benedicte Leroy De La Briere, Lead Economist, World Bank Gender Cross Cutting Solution Area
The 2012 World Development Report focused on the importance of gender equality as a core development objective in its own right. The Report assessed equality in the realms of human capital endowments, access to economic opportunities, and the state of women's voice and agency in the household and in society, and how these shape the division of resources within the household. Current results show that there has been some progress in endowments, especially in health and education. In health, particularly, access to water and sanitation has been a key input to this progress. Maternal and child mortality and the education gap have been reduced. Life expectancy has increased for women (54 to 73), and gender equality in enrollment at lower levels has been achieved in most countries worldwide. Nevertheless, key gender gaps persist in the areas of economic opportunities and voice and agency. Gender equality is central to economic growth, business growth and good development outcomes. To address the challenges that women and girls face in accessing and managing water, international development agencies and institutions are committed to develop policies and strategies to assist governments worldwide to undertake transformative approaches to close gender gaps.
With its new internal reorganization, the World Bank Group wishes to promote gender equality with the development of a new gender strategy, which promotes: (i) learning from what worked by working with clients to test and document transformative approaches that close gender gaps and enhance voice and agency; (ii) country-led approaches; (iii) key levers of change (i.e. using the Bank Group's comparative advantage in the areas of more and better jobs, and productive assets); and (iv) using sex-disaggregated data and gender indicators to create real-time feedback loops during project cycles. The gender strategy is currently under preparation and will be presented to the Board of Directors by the end of 2015.
Carolina Wennerholm Lead Policy Specialist Gender, Swedish International Development Agency (SIDA)
The Swedish government reiterated its strong commitment to gender equality with its 2014 feminist foreign policy. Sida developed a gender tools box for its staff to better support policy dialogue with partners and WASH programs in developing countries. Gender aspects are well integrated throughout Sida's operations; 15 percent of programs in the 2014 WASH portfolio have gender equality as a principal objective, and 72 percent as a significant objective. The WASH programs where gender equality is the main focus consist of: (i) a targeted approach to provide specific support to menstrual hygiene management (MHM) programs to eliminate the widespread ignorance regarding menstrual hygiene, which negatively impacts the life of adolescent girls and women; and (ii) an integrated approach to build 900 ecological dry toilets in the La Paz region, Bolivia, which has showed additional impact in terms of increased security for women.
Anupma Jain, Senior Social Sector Specialist, Urban Development and Water Division, Southeast Asia Department, Asian Development Bank (ADB)
The ADB believes in integrating strategic gender actions in the water sector as primordial to achieving gender equality and women's empowerment. An ADB-financed urban water supply and sanitation project in Lao People's Democratic Republic catalyzed the transformation of women's role in water utilities and service delivery, which are often viewed as a man's domain. A university scholarship program, financed by the Gender and Development Cooperation Fund (supported by Australia, Canada, Denmark, Ireland and Norway), provides young women from different provinces and ethnic backgrounds in Lao PDR an education and degree in engineering or environmental sanitation. The project also has supported water utility general managers integrate gender actions into their corporate plans, which have provided entry- to mid-level women in water utilities opportunities for skills development in financial management, operation and maintenance of systems, customer service and peer-to-peer learning. The project, with support from the Gender and Development Cooperation Fund, has transformed the way women's contributions are perceived in the water sector. It has improved the way water utilities operate, grow and provide services. It also has had several spill-over effects—gender mainstreaming is a separate goal in the Ministry of Public Works and Transport's Urban Water and Sanitation Strategy; a professional women's mentoring group has been established in the sector; and cooperation with the National Commission for Advancement of Women in the Ministry of Public Works and Transport has been strengthened. Given the Sustainable Development Goal 5, it is important to move beyond women's traditional role and participation in community and household water activities, and identify opportunities and entry points for increasing job and leadership opportunities for women in the water sector.
Francesca Greco, Water and Gender Focal Point, Regional Monitoring UN World Water Assessment Program, UNESCO
Past experience highlighted the importance of using specific evidence to measure the transformative impact of gender-informed programs in the water sector. Consequently, the UN WWAP has produced a Toolkit for gender sensitive water monitoring, which consists of four tools: (i) a list of high-priority water indicators identified by the international expert group for which gender-disaggregated data is especially needed; (ii) specific methodologies for collecting and assessing such data; (iii) a set of guidelines for "in-the –field" data gathering with specific insights for different world regions; and (iv) a questionnaire for practitioners on gender-disaggregated interviews and data collection. Regarding the post-2015 development agenda, UN WWAP UNESCO seeks to promote the use sex-disaggregated indicators in the monitoring framework of SDG 6 and other SDGs related to water and gender.
Bhuvan Bhatnagar, Lead Water and Sanitation Specialist, Water and Sanitation Program, World Bank Water Global Practice
The Global Water Practice of the Bank Group is currently undertaking a global study in 12 countries to determine if countries have gender-informed water policies and strategies, and to what extent they are being implemented. Emerging lessons from the global study suggest that leadership matters, money matters, and capacity matters. The study findings will be used to support the development of gender action plans in the water sector in selected countries, and at a global level to promote knowledge on creating the institutional space to address gender gaps.
Water has a multidimensional role in economic development and poverty reduction. Addressing the challenges women and girls face in accessing and managing water is critical to achieve sustainable impact.