Keeping up the momentum after the 7th World Water Forum
Sunday 23 August | 14.00-15.30 | Room: M3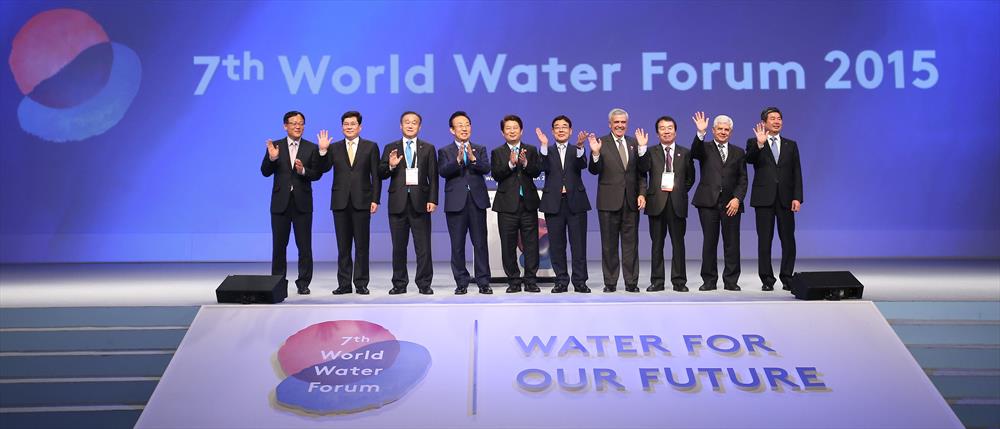 The international calendar is punctuated every three years by the World Water Forum and its agenda for change through collective action. During this event, the co-organizers of the 7th World Water Forum will take stock of the progress made in Korea and report back to the international water community on its achievements and shortcomings. What are the main results of the 7th World Water Forum? What solutions are now identified and how have implementation measures been improved? How has putting the spotlight on science and technology contributed to better water management? What follow-up mechanisms will serve to generate continued impact, especially in the context of the post-2015 development agenda? How can the collective action of 40,000 participants ensure a better water future?
The results of these discussions will feed into the development process for the preparation of the 8th World Water Forum to be held in 2018 in Brasila, Brazil.
Programme
14:00 Welcome and Opening Remarks - President Benedito Braga
14: 05 Congratulatory Address - Gyewoon Choi, CEO K-water
14:10 Major Outcomes of the 7th World Water Forum - Deuk-koo Koh, SG Korea Water Forum
14:20 Implementation Roadmaps and the post-2015 Development Agenda - Mark Smith (IUCN), Co-Chair of the 7th Forum Thematic Process Commission
14:35 A concrete example: Water and Cities - Faraj El Awar, UN Habitat
15:45 Q&A Discussion facilitated by Andras Szöllösi-Nagy
15:10 What lessons for Brasilia?
15:20 Concluding Remarks by Andras Szöllösi-Nagy
15:25 MoU Signing Ceremony
15:30 End of the Side Event