Women for Water. Every Woman Counts. Every Second Counts.
Monday 24 August | 16.00-17.30 | Room: FH 300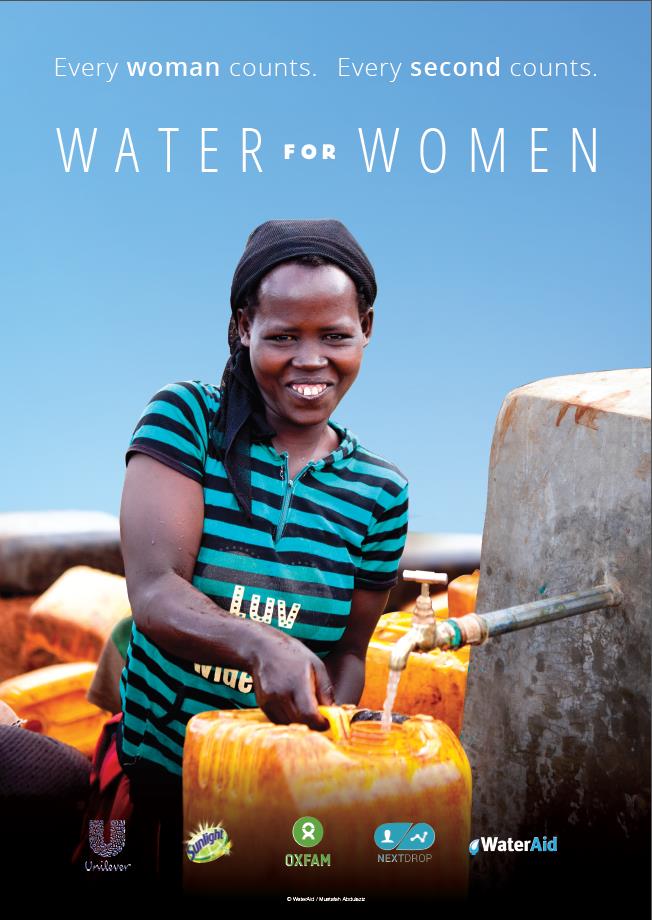 Women are the most powerful drivers of change. They are agents of hope and solidarity, mothers to humanity, often carry the heaviest burdens and possess priceless knowledge and experience. However they are also often the most under represented people, silences in society despite their enormous contributions. Picture a world in which all women are encouraged to share their knowledge and participate in decision making processes. Where they are released from the burden of water collection and receive salaries equal to men. This vision is attainable and within our reach…" Michela Miletto, UNESCO WWAP, Water for Women report 2015
Water for Women. Every Woman Counts. Every Second Counts will be an interactive discussion about the connections between SDG 5 and 6, key challenges and successes, and what needs to be done to drive progress on water and women's empowerment. Opening remarks will be provided by Michel Jarraud, Chair of UN Water; our panel will be moderated by Lesha Witmer, Women for Water Partnership, and welcome representatives from across different sectors, with speakers from Unilever, Oxfam, WaterAid, UNESCO WWAP and Next Drop. Closing remarks will come from The Honourable Ms Nomvula Mokonyane, Minister of Water Affairs and Sanitation of South Africa.
Programme
Panel Discussion: Women for Water. Every Woman Counts. Every Second Counts.
16:00 Welcome by Ms Lesha Witmer, Women for Water Partnership
16:10 Opening remarks by Mr Michel Jarraud, UN Water, Chair
16:15 Panel discussion
Mr Andy Bastable, Head of Water and Sanitation, Oxfam

Ms Hanneke Willenborg, Global VP Dishwash, Unilever

Ms Barbara Frost, CEO, WaterAid
Ms Anu Sridharan, CEO, NextDrop
Ms Michela Miletto, World Water Assessment Programme, UNESCO
17:05 Closing remarks from The Honourable Ms Nomvula Mokonyane, Minister of Water Affairs and Sanitation of South Africa
17:10 Q&A
17:20 Summary and wrap-up by Ms Lesha Witmer, Women for Water Partnership