PepsiCo / Water.org
The WaterCredit Model: Lessons and Opportunities for Scale and Impact
Thursday 27 August | 16.00-17.30 | Room: FH Little Theatre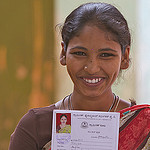 Water.org's WaterCredit model represents the creation of a new space at the intersection of water, sanitation, and microfinance. The model empowers people to address their own water and sanitation needs by catalyzing small loans to people in developing countries who often lack access to traditional credit markets. To date, Water.org has catalyzed $97 million in capital, reaching more than two million people through 48 partners in nine countries. The WaterCredit model has grown rapidly, from 100,000 loans to more than 500,000 loans in the last two years.
With access to affordable financing, individuals and families can take out loans for water and sanitation improvements. This introductory, interactive session will explain the unique characteristics and mechanics of the WaterCredit model, share its results and lessons learned, and explore new approaches and channels for considering how we can work with others to reach millions more people with access to improved water and sanitation through innovative financing.
No single business, NGO or government can solve the global water crisis. However, each has a role to play. Water.org recognizes that collaboration, such as powerful partnerships with leading corporations like PepsiCo, is critical to advancing innovative solutions and progress.
Programme
4:00 Welcome
Silvia Cruz-Vargas, PepsiCo Foundation
4:05-4:10 Who is Water.org
Gary White, Water.org
4:10-4:25 What is WaterCredit?
Lesley Pories, Water.org
Patrick Alubbe, Water.org
Gabrielle Puz, Water.org
4:25-4:40 Question and Answer Panel
Gary White, Lesley Pories, Patrick Alubbe, Gabrielle Puz
4:40-4:50 Role of Partnerships
Marcia Passarella, PepsiCo Foundation
Nicole Wickenhouser, Water.org
4:50-5:05 Proving the Case for WaterCredit
John Ikeda, Water and Sanitation Programme
Heather Arney, Water.org
5:05-5:20 Question and Answer Panel
Marcia Passarella, Nicole Wickenhouser, John Ikeda, Heather Arney
5:20-5:30 Concluding Remarks
Silvia Cruz-Vargas, PepsiCo Foundation