International Water Management Institute
Wetlands for Food Security: Solution or Illusion?
Sunday 23 August | 16.00-17.30 | Room: NL Pillar Hall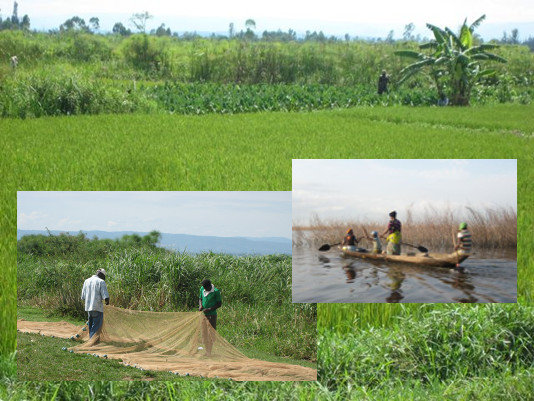 Wetlands play an important role for several of the suggested Sustainable Development Goals, including those on food security and poverty eradication, ecosystems and biodiversity, water and climate change adaptation. If disconnected, actions taken to achieve one goal can easily conflict with others. As one prominent example, increasing attention to food security drives wetland conversions across Africa. But intensification of wetlands agriculture for food production undermines local livelihoods and diminishes important ecosystem services.
The event will showcase, contrast and integrate different perspectives on the role of wetlands for food production, water management, disaster prevention, climate resilience and biodiversity, as well as insights on social tensions and land tenure. It will highlight conflicts between policies and views that make wetland management a balancing act between short-term benefits and long-term systemic risks. In particular, the session aims to clarify the role of wetlands for achieving the post-2015 agenda. What did we learn from the MDG process, what do we need to do better post 2015?
The seminar aims to build bridges between often disconnected communities for human development in wetlands, ecosystem protection, and agricultural investments and promote the contribution of networks and communities of practice to improve policies for sustainable wetland use.
Programme
Debate: Agricultural frontier, livelihood source and service provider – are we setting wetlands policies on a collision course?
Moderator: Dipak Gyawali, Nepal Water Conservation Foundation
With viewpoints by
Benard Onyango Opaa, National Environmental Management Authority, Kenya
Teddy Tindamanyare, Ministry of Water and Environment, Uganda
Adrian Wood, University of Huddersfield/Wetland Action
Ania Grobicki, Ramsar Convention
Matthew McCartney, International Water Management Institute (IWMI)
Juan-Carlos Sanchez, International Union for Conservation of Nature (IUCN)
Serah Munguti, Africa Water Community of Practice (AfriWater CoP)
Claudia Ringler, International Food Policy Research Institute (IFPRI)
Representative of African land policy and agricultural investment (tbc)
16:00 Welcome by the moderator

16:05 Opening statements on policy priorities:
Wetlands for People: protecting rights and livelihoods of wetland communities
Wetlands for Growth: realizing the agricultural investment potential of wetlands
Wetlands for the Planet: safeguarding crucial ecosystem services
16:15 Debate Round 1: Wetlands for food production – what can they offer, what is the price?
16:35 Debate Round 2: Wetlands and the SDGs – how big is the "natural infrastructure gap" to meet them all?
16:55 Audience Round
17:15 Summary and closing statements: What did we learn?
17:30 Close of event