Ministry of Foreign Affairs, The Netherlands / Ministry of Infrastructure and the Environment of the Netherlands
A preventive approach to water and disaster risk reduction
Monday 24 August | 16.00-17.30 | Room: NL Auditorium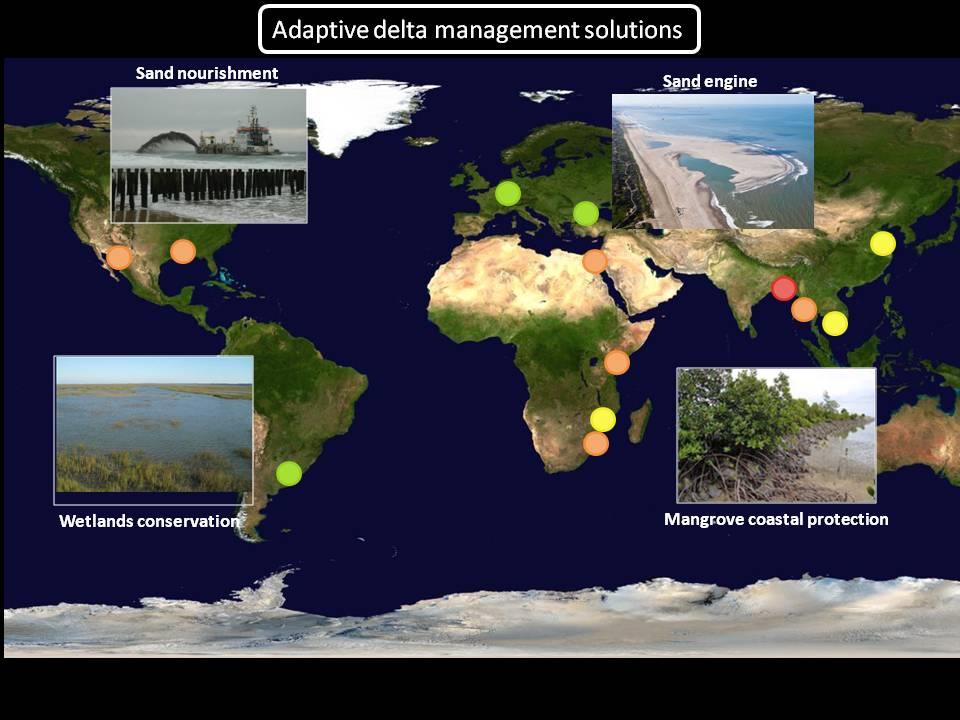 There is a sense of urgency to act now on water-related disasters. Climate change is exacerbating the extremes in hydro-meteorological events; population growth, land use change, rapid urbanization will increase the impact of water related disasters globally. A proactive and flexible approach, integrated in a long term planning is needed. This allows communities and decision makers to identify synergies with planned investments, adaptation plans to climate change and awareness of the population.
Delta countries have a lot to offer when it comes to disaster risk prevention. Exchange of this knowledge can yield new and critical insights into how best to improve the overall resilience of (river)delta regions worldwide. At the DRR conference in Sendai / March 2015 "The Delta Coalition" was established with the aim to support the Post 2015 Framework for Disaster Risk Reduction. The Stockholm Waterweek will be exactly the right moment for an update, where experiences of Delta countries will be presented.
This seminar will enlighten you on the latest knowledge and experiences of strengthened resilience to climate and disaster risks while the Delta Coalition will provide some practical examples of possible issues for increased cooperation and exchange on flood reduction.
Programme
The Delta Coalition: sharing experiences on Disaster Risk Reduction through Preventive Approaches

Chair: Mr. Kees Rade, Ambassador for Sustainable Development, Kingdom of the Netherlands
Co-chair: Mr. Yusuke Amano, Director, International Affairs Office, Water and Disaster Management Bureau, MLIT, Japan
Session Agenda
15:45 – 16:00 Open Doors
16:00 – 16:10 Welcome and introduction
Mr. Kees Rade – Ambassador for Sustainable Development, Kingdom of the Netherlands
16:10 – 16:20 Introductory Key Note on "Preventive approach towards DRR: from concept to practice"
Mr. Henk Ovink - Special Envoy for International Water Affairs, Kingdom of the Netherlands
16:20 – 16:30 "Message from Sendai, for sharing experiences for 'Preventive Approaches"
Mr. Kenichiro TACHI - Director for International Coordination of River Engineering, River Planning Division, Water and Disaster Management Bureau, MLIT, Japan
16:30 – 16:40 Experiences from Egypt (tbc)
Mr. Eng. Ahmed Bahaa El Din Mohamed - Nile Water Sector, Chair, Egypt
16:40 – 16:50 Experiences from South Korea (tbc)

16:50 - 17:15 Panel discussion
Chairs, Speakers & Mrs. Tineke Huizinga (Chair of the Delta Alliance, former Dutch Minister on Water Affairs)
A discussion moderated by Mr. Henk Ovink, with inputs from the audience.
POSSIBLE QUESTIONS FOR DISCUSSION:
How can we bring together the various communities related to River Deltas (i.e. disaster risk reduction, climate change adaptation, resilient cities, …)?
Which existing tools, initiatives, programmes and organisations can help support the future endeavour of the Delta Coalition and how can the DC act as a conduit to bring these together?
How could a Delta Coalition foster improved access to relevant data and international exchange of knowledge and practices and support capacity building and catalyse appropriate action in deltas?
Which events in the coming year should be used to share our experiences and positions in the international arenas?
17:15 – 17:30 Wrap-up and Concluding Remarks
By Moderator and Chairs