We Effect
Water as a driver for sustainable development and poverty eradication
Wednesday 26 August | 14.00-15.30 | Room: L9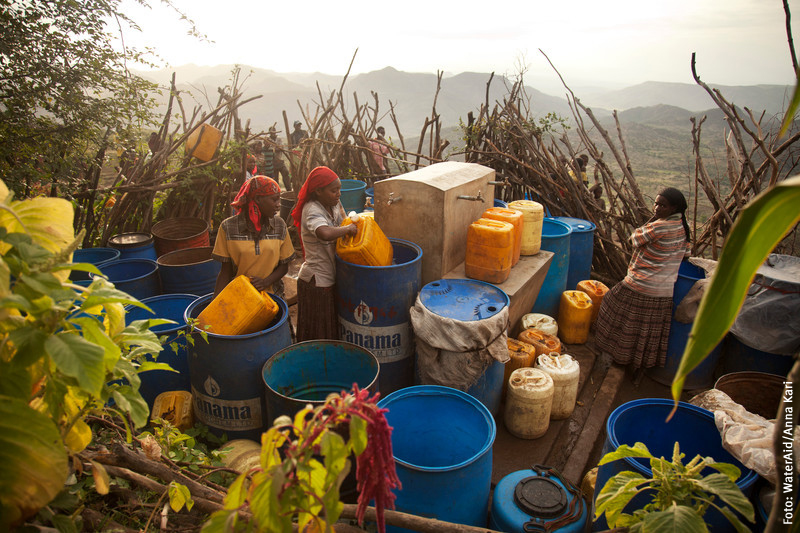 Water is an integral part of a society's development and a backbone for human health and dignity, livelihoods and poverty reduction. The human right to access to clean water – the need for all people to be able to enjoy adequate water and sanitation services – is well established internationally. Water is also an economic good and as such a driver for economic growth and development. The question is: how will a rights-based approach to water be implemented? Still, we often fail to address some of the core issues of equitability and asymmetries in power between the haves and the have nots. This is true between nations sharing water, between different users of water, and in communities. How can we work towards a future of more inclusive, just and equitable development, making sure we do not leave the poorest and the hardest to reach behind?
Contribute to conversations on the topics of this workshop through Twitter, here: #Water4equality
Programme
Instruments and incentives for sustainable development
14:00 Introduction
Diego Rodrigue, The World Bank Group
14:10 Keynote:
Jonathan Kamkwalala, The World Bank Group
14:20 Perspectives of small-scale water enterprises: Motivations,
drivers and barriers
Juliet Willetts, Institute for Sustainable Futures, Sydney
14:30 Economic gains from good water and sanitation
Lesley Pories, Water.org
14:40 Panel discussion
Panelsits:
Jonathan Kamkwalala, The World Bank Group
Xavier Leflaive, OECD
Fred Boltz, The Rockefeller Foundation
Greg Koch, Global Water Stewardship, The Coca-Cola company
15:20 Summary
Cecilia Chatterjee-Martinsen, WaterAid
Conclusion
The workshop was divided into three sessions. The first session focused on the human rights to water and sanitation, the second session focused on poverty and equality, and the third session focused on instruments and economic incentives for sustainable development. A common theme across these three sessions was the importance of equality for sustainable development. The key messages emerging were:
There is a need for governments and development partners to (more) critically assess investment programs so that they are targeted to benefit the poor and not disempowering them. Analysis suggests that this is not being done adequately.
There is no contradiction between economic incentives and private sector initiatives and a human right to water. With proper attention to pro-poor perspective they can go hand in hand.
Water is political – at a local, national and international level. It is important to understand how water is used (and misused) as a result of prevailing power structures in society. When devising economic instruments for sustainable development it is key to strengthen and empower the less powerful.
The first session highlighted equality as an indicator of sustainable economic development and the need to engage governments to prioritize budget allocations to serve the poorest first and address inequalities.
Achieving water equality will also require attention to land rights and how these relate to water rights. An example from the Niger Basin in West Africa highlighted how the water security of small famers is being affected by their lack of land security. It was concluded that only when local small farmers have clear stewardship of the land can a discussion on water entitlements and efficiency be successful.
The role of CSOs in achieving rights will be of crucial importance. This will involve not only supporting communities – the rights holders – in becoming aware of and demand their rights, but also supporting governments – the duty bearers - in creating an enabling environment for the realization of the rights.
The workshop focused further on challenges in implementing the rights to water and sanitation. The contrast between Finland and South Africa provide an example of how different legal systems and cultures result in different outcomes towards the realization of the rights.
Issues of inequality are particularly challenging to address in areas of conflict. Due to discriminatory water sharing agreements and Israeli restrictions on Palestinian water and sanitation planning, the human right to water and sanitation cannot be realized in the occupied Palestinian territories.
In the third session of the workshop, equality was discussed from the perspective of instruments and economic incentives for sustainable development. It was highlighted that when designing incentives and instruments, there is a need to look at water holistically with a poverty and equality lens. Further, there is a need to pay more attention to the way instruments and incentives are designed. These are political processes often subject to biases, which can be less favorable to stakeholders at the bottom of the pyramid, and hence less oriented to address equality.