Closing Plenary
Friday 28 August | 09.00-13.00 | Room: NL Auditorium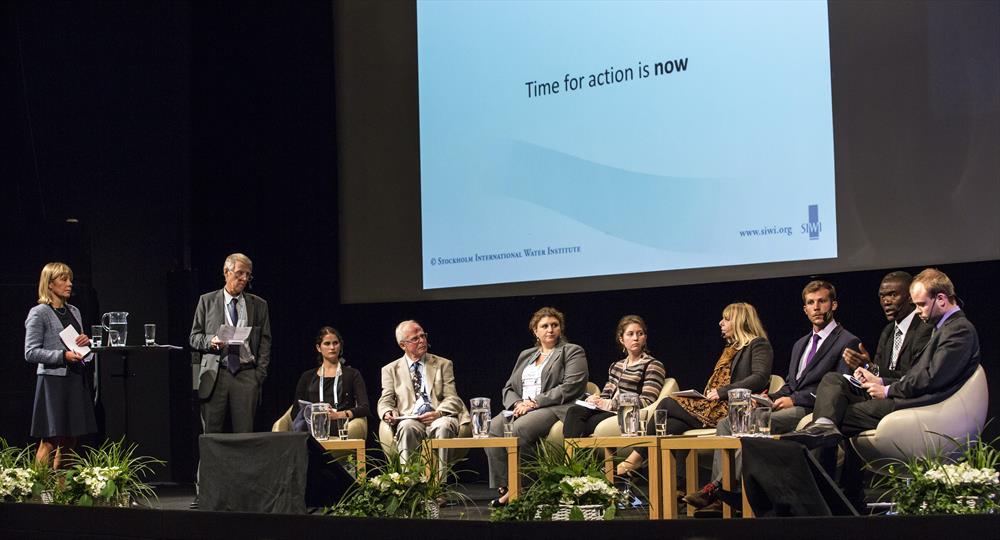 The dialogue in the closing plenary will help tie together discussions from the week. Speakers of the closing plenary will be invited to consider the role sustainable water resources management will play in the achievement of coherent, efficient implementation of the Sustainable Development Goals and the anticipated new global climate agreement.
Speakers will discuss to which they provide building blocks for fair, safe and resilient societies. Further, speakers will be invited to discuss how to adequately address water related challenges in the decision on the Post 2015 development agenda and in the anticipated new climate agreement.
The conference delegates will in interactive discussions get the first hand essence captured by the World Water Week Rapporteur teams that have followed the week at close range. They will present the latest developments, best cross-sectoral solutions and identify efficient and sustainable water action for development. Further, reflections from the interregional dialogue will be presented.
Programme
09:00 Welcome
Mr. Torgny Holmgren, Executive Director, Stockholm International Water Institute
09:05 Reflexions of the 2015 World Water Week
Ms. Karin Lexén, Director World Water Week, International Processes & Prizes, Stockholm International Water Institute
09:15 Introduction to the panel
Mr. Torgny Holmgren, Executive Director, Stockholm International Water Institute
09:25 Water resources underpinning development and supporting climate resilience
Dr. Åsa Romson, Climate – and Environment Minister Sweden

09:45 Water in the global climate processes and in the 2015 Climate Agreement
Ms. Veronique Massenet, Deputy Director of climate change and sustainable development (In charge of the COP21) Ministry of Ecology France (TBC)
10:00 Water security under extreme climate: The case of São Paulo
Mr. Benedito Braga, Secretary of State for Sanitation and Water Resources for the state of São Paulo, Brazil, and President of the World Water Council.
10:20 Best Workshop Poster Award, presented by Dr. Robert Bos, Scientific Programme Committee
10:30 Coffee Break
11:00 Welcome back
Ms. Karin Lexén, Director, World Water Week & Prizes, Stockholm International Water Institute
11:10 Reflections from the Interregional dialogue
Dr. Arun Shreshta, Regional Programme Manager, ICIMOD
11:20 Reflections from the Workshops,
Dr. Torkil Jønch Clausen, Chair, Scientific Programme Committee of the World Water Week
11:30 Reporting Back from Rapporteurs Teams
12:45 Closing Remarks
Mr. Torgny Holmgren, Executive Director, Stockholm International Water Institute
12:50 World Water Week 2015 in Pictures
13.00 Closing Session ends