City of Stockholm
Sustainable cities: Stockholm Royal Seaport urban development area (field visit)
Tuesday 25 August | 15.30-18.00 | Room: -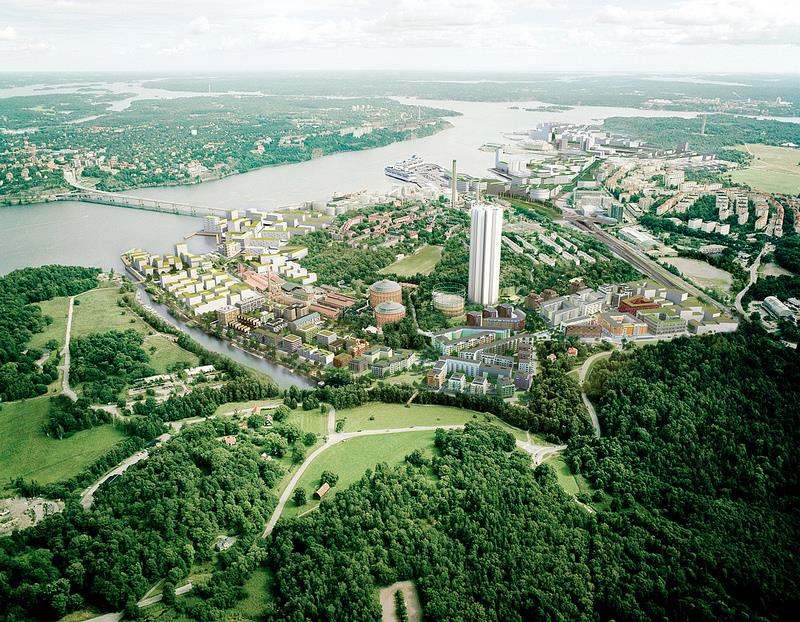 Stockholm Royal Seaport (SRS) is the largest urban development in Sweden, with 236 hectares of industrial land that will be remediated and turned into a vibrant, attractive and sustainable city district on a walking distance from central Stockholm.

The visit takes place in the SRS Construction Consolidation Center, one of many innovations that have been developed within the project to reduce environmental impacts of urban development.

Three presentations will take place, starting with setting the scene on the main issues in the Stockholm context and how to addresse them – goals and accomplishments, processes and collaborations, potentials and challenges.

The next two presentations will describe how Stockholm is taking on the challenges of climate change. The Slussen project – how to mange the regional water resource that contributes with ecosystem services worth some 200 billion SEK/year, through an urban development project in the heart of Stockholm.
Stormwater management in SRS – will describe an innovation being developed in the SRS for how to manage and use stormwater for the benefit of people and the environment.
The workshop field visit is free to join, but please note that priority will be given to participants of the workshop.
Programme
15:30 Bus leaves from Folkets Hus Main entrance.
16.00 Welcome and introduction
Staffan Lorentz, Stockholms Stad
16.20 How we work at Norra Djugårstaden: Organization,
governance, dialogue processes, research & development
Ingmarie Ahlberg, Norra Djugårstaden
16.40 Slussen: The Sluice area renovation, including locks between
Lake Mälaren and the Baltic
Monica Granberg, Structor Miljöbyrån Stockholm
17.10 Coffee break
17.30 Storm water management
Maria Lennartsson, Norra Djugårstaden
18.00 Closing remarks, with option to stay and walk around the area.
18:00 The bus back to Folkets Hus Main entrance.
Conclusion
The Sustainable Cities workshop comprised four sessions in total: two technical sessions on (A) urban sanitation governance and (B) recycling and reuse opportunities, (C) one high-level panel discussing the way forward, and (D) a field visit to the Stockholm Royal Seaport (SRS) urban development.
This visit included three presentations: (i) the SRS sustainable district project, (ii) the Slussen renovation project, and (iii) an Stockholm's stormwater management strategy.
Stockholm is the economic engine of Sweden with a rapidly growing population. It is a city on the water, built on waterways, and composed of several islands that need to be connected through infrastructure, including tunnels and railways.
The Stockholm Royal Seaport (SRS) urban development project consists in transforming an seaport industrial area into an urban development, comprising 12,000 housing units and 35,000 workplace units over a 236-ha urban sustainable district. It is intended to become a dense area with high-rise buildings, which is quite unique for Stockholm. The SRS project is viewed as an opportunity for Stockholm to learn and increase its capacity to solve sustainability challenges, with a local, national, and international perspective of knowledge and experience sharing. The project intends to tackle the questions of how to inspire city dwellers to live sustainably, and how to make sustainable choices easy. Important principles supporting the successful development of the project include the need to secure political support and to establish a common vision, the need for cooperation and systems integration, collaboration with landowners, the integration of R&D, and the use of ecosystem services as a base for planning.
The Slussen project is another sustainable development challenge with an important water management aspect. The Slussen site is very central in Stockholm and has vital public functions. Importantly, it includes a lock for the passage of boats and ships and for water regulation of Lake Malaren, situated between the lake and the Baltic sea. The area is a major hub with high cultural values, and the need for it to be rebuilt has generated a big debate in Stockholm. The new lock will increase the ability to regulate the lake's water level with a 5-time increase of its discharge capacity, and will include a fish ladder. The new water regulation plan takes into account the ecosystems demands around the lake, and will allow a higher water level in springtime and lower level in summer, so that the lake behaves more naturally in spite of being regulated.
The Stockholm stormwater strategy addresses challenges of stormwater quantity and quality through (i) on-site infiltration to reduce the volumes of runoff discharges, (ii) on-site detention to reduce peak flows, (iii) drainage in preferably open systems, (iv) secondary drainage paths, (v) stormwater use in multi-functional areas, and (vi) stormwater treatment where required. The strategy is based on the principles of low impact development and ecosystem services, which are demonstrated to be cost-efficient. Design criteria include the objective to cause no increase in the pollution load to receiving waters. Lessons learned along the development of key projects include the need to involve stormwater management early in the planning process, and the need for early dialogue and cooperation between landscape architects, civil engineers, and spatial planners.