Action Platform for Source to Sea Management / Swedish Agency for Marine and Water Management / United Nations Environment - Global Programme of Action for the Protection of the Marine Environment from Land-based Activities
Source to Sea - bridging marine and freshwater SDGs
Wednesday 31 August | 14.00-15.30 | Room: NL 461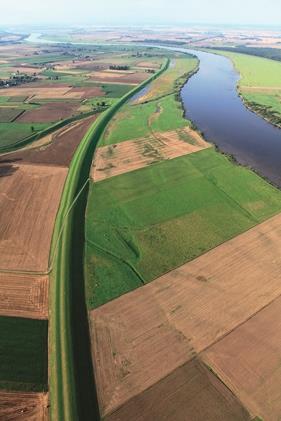 The relationships between upstream pressures and downstream effects highlight the importance of integrating the efforts to achieve Goal 6 and Goal 14 of the Agenda 2030. A coherent management of fresh and marine water caters for maintained ecosystem services essential for sustainable economic growth while also contributing to the delivery of Sustainable Development Goals related to food security, poverty eradication and health.
Countries are increasingly investing in upstream "green" and downstream "blue" economic growth opportunities to support a mutually reinforcing economic growth and sustainable development, but efforts to meet future needs of water, food, energy and space place high demands on balancing complex economic, social and environmental dimensions of sustainable development between connected systems from source to sea.
This event will discuss solutions to the persistent challenges in addressing links and trade-offs in activities on land, in rivers, along coasts and at sea to enable sustainable growth in connected systems from source to sea and support the realization of the development aspirations defined in the 2030 Agenda for Sustainable Development.
Programme
14.00 Introductory remarks
Torkil Jønch Clausen, SIWI, Chair of the Action Platform on Source to Sea Management
14.10 Keynote: Achieving SDGs 6 & 14 - Challenges and the Need for Source-to-Sea Approaches
Andrew Hudson, Head, Water and Oceans Governance Programme, UNDP
14.25 Swedish Source-to-Sea Implementation of the EU Water Framework and Marine Strategy Framework Directive
Anna Jöborn, Director, Science Affairs, Swedish Agency for Marine and Water Management
14.35 Lessons from applying ridge-to-reef approaches in Vu Gia – Thu Bon River Basin, Central of Viet Nam
Bui Thi Thu Hien, Marine and Coastal Resources Programme Coordinator, IUCN, Viet Nam
14.45 Panel discussion and Q&A: Opportunities to capture upstream-downstream linkages in SDG implementation

Panelists:
Eduardo Mansur, Director, FAO Land and Water Division
Habib El Habr, UNEP GPA Coordinator
Jakob Granit, Incoming Director-General of the Swedish Agency for Marine and Water Management (SwAM), former Deputy Director, SEI and GEF/STAP IW panel member
Ania Grobicki, Acting Secretary General, Ramsar Convention on Wetlands
15.20 Wrap-up
Torkil Jønch Clausen, SIWI, Chair of the Action Platform on Source to Sea Management