Groundwater governance and gender sensitive water assessment in SDG 6
Wednesday 31 August | 16.00-17.30 | Room: NL 357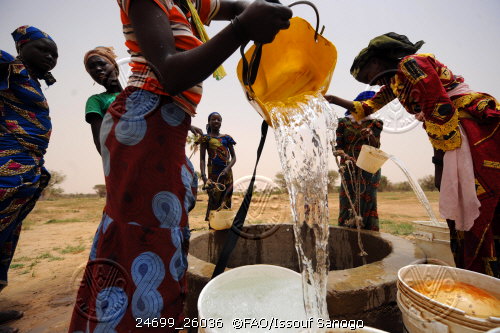 Although women play a pivotal role in water resource management(especially in rural areas), gendered water data are among the least available of national-level indicators, and 45% of countries do not produce any gender statistics related to water. Women represent at least half of the workforce in agriculture and food production, and often bear the daily burden of carrying water from wells to their families. Among water professionals, women are also under-represented.
The UNESCO International Hydrological Programme (IHP) and the United Nations World Water Assessment Programme (UN WWAP) have developed and applied tools that aim at empowering women and advancing gender equality. A methodology for sex-disaggregated data collection using multi-sectoral gender-sensitive water indicators has been developed by UN WWAP with the aim of advocating for the implementation of gender-sensitive water monitoring in the post-2015 agenda and, in particular, in the monitoring framework of the SDGs.
Groundwater as a fundamental component of the water cycle is fully integrated in the SDG 6 targets; however, its particularities must be fully acknowledged for indicator development and data acquisition. The session will put an emphasis on the interlinkages between groundwater and climate change, water-related disasters, education and health, and gender-mainstreaming.
Programme
16:00 Welcome remarks
Alice Aureli, Chief, Groundwater and Human Settlements Section, UNESCO International Hydrological Programme
Stefan Uhlenbrook, Coordinator, UN World Water Assessment Programme, UNESCO
16:10 Presentation on "Engendering water: WWAP Gender & Water Toolkit in view of the 2030 Agenda for Sustainable Development "
Presenter: Lucilla Minelli, Programme Officer, UN World Water Assessment Programme, UNESCO
16:25 Presentation on "Groundwater Governance and Gender-Sensitive Water Assessment: results of the UNESCO-IHP GGRETA project"
Presenter: Tales Carvalho Resende, Project Officer, UNESCO-IHP
16:35 Video screening "Groundwater, the Hidden Resource" IUNESCO International Groundwater Resources Assessment Centre (IGRAC)
16:40 Panel Discussion on "Policies and Strategies for Mainstreaming Gender in the Water Sector - Regional Perspectives"
Presenter and Moderator: Lesha Witmer, Senior Expert, Women for Water Partnership
Panel members:
Nelson Gomonda, Monitoring and Reporting Project Manager, African Ministers' Council on Water (AMCOW)
Viviana Re, Marie Curie Research Fellow; Researcher,Department of Molecular Sciences and Nanosystems, Ca' Foscari University of Venice, Italy
Eiman Karar, UNEP
17:20 Conclusions
Johan Gély, Head, Swiss Agency for Development and Cooperation (SDC)