Earthwatch
Improving water stewardship and livelihoods through citizen observatories
Wednesday 31 August | 14.00-15.30 | Room: FH 202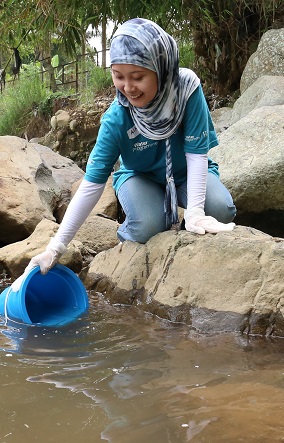 The 2030 Sustainable Development Goals define global development priorities for the next 15 years. In order to address the key social and environmental issues that have been identified, collective action between governments, academia, NGOs, the private sector and civil society is required.
Citizen observatories are community-based environmental monitoring and engagement systems which generate data to inform science, policy and management. They represent an ideal tool for fostering collective interaction between different stakeholders. Citizen observatories provide communities with increased influence in decision making, allowing them to directly contribute to key economic, social and environmental issues.
This event will explore the opportunities for citizen science to foster more sustainable management of water supplies and aquatic ecosystems. Citizen science practitioners from private and public sectors, academia and NGOs will bring together a range of expertise from local, European and global programmes.
The event will be interactive and explore new opportunities to utilise citizen-stewardship and novel web technologies to promote important impacts on science, policy and practice. This includes the use of interactive games to build resilience into decision making. Speakers will demonstrate that a paradigm shift in water resources management can be achieved and share challenges related to engagement, quality control and impact.
Programme
14:00 Welcome and introduction
Moderator


14:15 Rotating carousel of 4 interactive demonstrations of citizen observatories
Earthwatch
UNESCO-IHE
Akvo Foundation
Stockholm Resilience Centre


15:15 Concluding remarks and summary