Climate and Development Knowledge Network / SouthSouthNorth
The key to sustainable growth: mainstreaming climate resilient infrastructure
Tuesday 30 August | 16.00-17.30 | Room: FH 202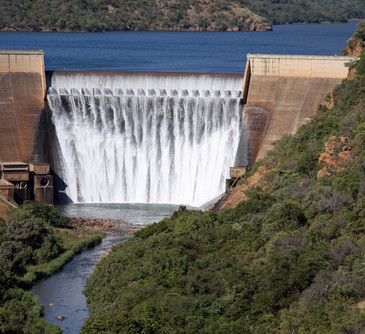 The World Economic Forum 2016 Global Risk Report has ranked the failure of mitigation and adaptation as the most impactful global risk and the third most likely risk to occur. Africa is vulnerable to the effects of climate change, specifically an increase in extreme weather events. The resulting impacts have negative consequences on the sustainable growth of countries. In parallel, Africa has a significant infrastructure deficit. Most of the long-lived infrastructure has to be built, rehabilitated or replaced. In the water sector, this deficit presents challenges in ensuring water security for sustainable development.
The resilience of human communities to climate change-related impacts depends on the success of water management interventions. African governments are considering how to integrate climate resilience into the design of planned infrastructure. There is increasing recognition that without integrating climate resilience into the design of water infrastructure, countries full economic and development benefits will not be achieved. Led by Government representatives, this event will draw from experiences in the southern African region such as Mozambique's 'building the climate resilience of the Limpopo Basin' project. This event will showcase how financiers and developers are working together with Governments to integrate resilience into the design of planned water infrastructure.
Programme
16:00 Welcome to the session
Sam Bickersteth, Climate and Development Knowledge Network
16:05 Introduction
Torkil Jønch Clausen, Chair of the Scientific Programme Committee for the World Water Week (Facilitator)
16:10 Panel debate with questions and answers from the audience facilitated by Torkil Jønch Clausen, focussed on the following key questions:
How do we ensure that we are not promoting climate resilient poverty?
Small versus large-scale infrastructure. Is small scale water infrastructure bankable and politcially feasible?
Are the incremental costs of building resilience for possible long-term climate trends always justified in the context of urgent development needs? How have low and or no-regret options played a role thus far?
Will addressing current climate variability be sufficient to deal with longer term climate change?
How do we ensure robust decision-making in planning for and implementing water infrastructure that takes into account climate resilience?
Panelists:
Shehnaaz Moosa, SouthSouthNorth (SSN)
Delário Sengo, Administração Regional de Águas do Sul (ARA-Sul), Government of Mozambique
Charles Reeve, Climate Resilient Infrastructure Development Facility (CRIDF)
David Hebart-Coleman, Africa Water Facility (AWF)
TBC, African Ministers Council on Water (AMCOW)
Response to opening statements by panelists
Gavin Quibell, Independent Strategic Water, Climate and Development Consultant
17:25 Wrap-up of event
Torkil Jønch Clausen