Swedish Agency for Marine and Water Management / Water Research Commission / We Effect / Swedish Agency for Marine and Water Management / Water Research Commission / We Effect
Ecosystem degradation and livelihoods: moving from vicious to virtuous cycles
Tuesday 30 August | 09.00-10.30 | Room: NL 357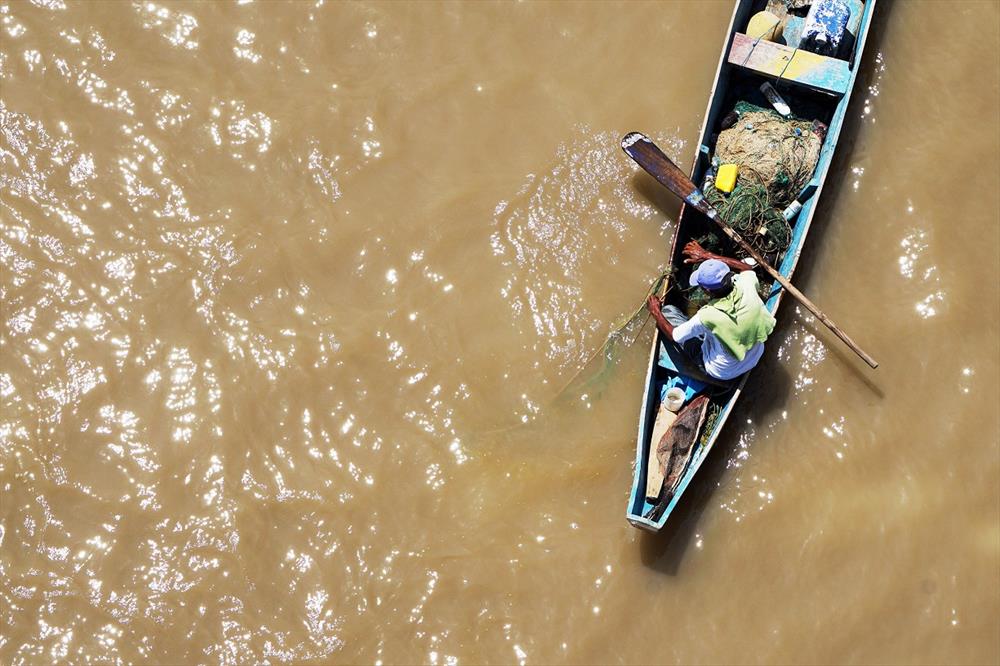 Human well-being, and economic growth depend on the health and integrity of water resources on earth's ecosystems and the crucial services they provide. Poor communities are particularly reliant on local ecosystem services. Thus, the harmful effects of ecosystems degradation are often felt disproportionally by the poor becoming in many cases drivers of poverty and social conflict. Recognizing this human-ecosystem interdependency is essential to achieving the SDGs. Yet our understanding of these linkages and interactions is still limited.
This seminar will discuss the conundrum of economic growth and water's role in healthy ecosystems for mitigating poverty and achieve the new SDG targets. Perspectives from a range of ecosystems from source to sea will be discussed to capture the range of services they provide and ways in which communities interact with and depend on them for livelihood, health and security. Further, the seminar will explore some innovative solutions involving civil society, as well as public and/or private sectors.
During the seminar posters will be presented. Please find them online under the resources tab.
Programme
Ecosystem Degradation and Livelihood: Perspectives from Source to Sea
9:00 Introduction to the whole seminar
Dr. Jakob Lundberg, We Effect
9:05 Opening Keynote
Jeremy Bird, Director General, IWMI
9:15 Welcome
Anna Jöborn, SwAM
9:20 Keynote: A View from the Mountains on Ecosystem Services
and Water Resources
Dr. David Molden, Director General, ICIMOD
9:30 Ecosystem Degradation Cycle in the Himalayan Foothills of
Jammu, India
Dr. Vikas Sharma, Kashmir University of Agricultural Sciences
and Technology of Jammu
9:35 Groundwater sustainability: Narrowing the gap between science,
policy and society
Yolanda Lopez-Maldonado, Ludwig Maximilian University of
Munich
9:40 Social-ecological deltas and green infrastructure: lessons from
the Paraná and Dutch delta
Martijn van Staveren, Wageningen University and Johanna
Hedlund, Tengbom Architects
9:50 Barriers to integrated watershed and coastal management:
case study in Vu Gia – Thu Bon River Basin, Central of
Vietnam,
Bui Thi Thu Hien, IUCN
10:55 Interactive Session
Moderator: Anna Jöborn, SwAM
10:25 Summary and wrap up
Anna Jöborn, SwAM
Conclusion
Human well-being and economic growth depend on the health and integrity of ecosystems and the crucial services they provide. This session discussed the conundrum of economic growth and sustainable management of water for healthy ecosystems to provide conditions for mitigating poverty and achieving the new SDG targets.
Session 1 explored those ecosystems, in particular groundwater and mountainous and coastal areas, that are frequently overlooked and yet offer a range of ecosystem services, while supporting, directly or indirectly some of the most populous regions of the globe. These ecosystems are undergoing new and rapid climatic, physical and demographic changes often without the support of political, institutional or economical frameworks. These challenges call for new forms of holistic and integrated approaches that take the whole continuum from source to sea into consideration.
Before diving into case studies, Session 2 opened with a call to rethink our growth model so it incorporates ecosystem degradation into the global economic equation. At the individual/household level, initiatives such as aquaponics, offer real opportunities to reduce poverty and minimize impacts on ecosystems in ways that are scalable, cost-efficient and directly respond to the needs of the population involved. Importantly, communities that are reliant on ecosystems for livelihood need to be provided with the correct incentives to extract benefits sustainably argues. Farmers in particular, who are often seen both as responsible and as victims of water scarcity, need an umbrella of incentives to overcome short term needs and to support transitions to long term sustainable activities. Public policies to improve farm productivity can be combined with those that reward conservation practices. Results can be maximized by partnering with green business strategies (e.g. ecological value-added markets).
The role of the private sector was discussed further in Session 3 with the involvement of a number of large corporations that are increasingly recognizing ecosystems as Natural Capital that needs to be valued and quantified. Coca-Cola has developed an ecosystem accounting methodology to value natural capital and integrate these values into its decision making process- in particular the impacts of their activities and the benefits of restoration projects. Exactly how our ecosystems should be valued, measured and quantified is still uncertain and far from being globally accepted. However it demonstrates a growing interest from the private sector to incorporate ecosystems as part of the global financial equation and decision making process.
At the civil society level, the growth of information and technology offers a real opportunity to 'scale up', especially through citizen science programmes such as FreshwaterWatch and the generation of large global data sets by civil society to be used by researchers and policy makers while engaging citizens. Partnering and working with major international companies, while producing scientific results that are directly contributing to public policy, is a demonstration of a new kind of model currently on the rise.
Although contributions from the private sector, academic research, and civil society all have a role to play, the public sector needs to ensure the incentives, revenue mechanisms and institutional structures are in place to support these changes. Unfortunately, this is far from being a general rule. In Vietnam for instance, the state has been unable to exercise its core regulatory duties as a result of extreme institutional fragmentation which has weakened the state leaving space for the private sector to operate without adequate control.
In conclusion, different contexts call for different types of approaches involving the public, private sectors as well as smaller-scale bottom up innovations. Regardless of the approaches used, good governance structures and holistic approaches that consider water management from source to sea are essential elements to support those solutions.