IRC / Rural Water Supply Network / SNV / Swiss Agency for Development and Cooperation / The World Bank Group / United Nations Children's Fund / WaterAid
SDG6: Searching for universal sustainability metrics for rural water services
Wednesday 30 August | 16.00-17.30 | Room: NL Pillar Hall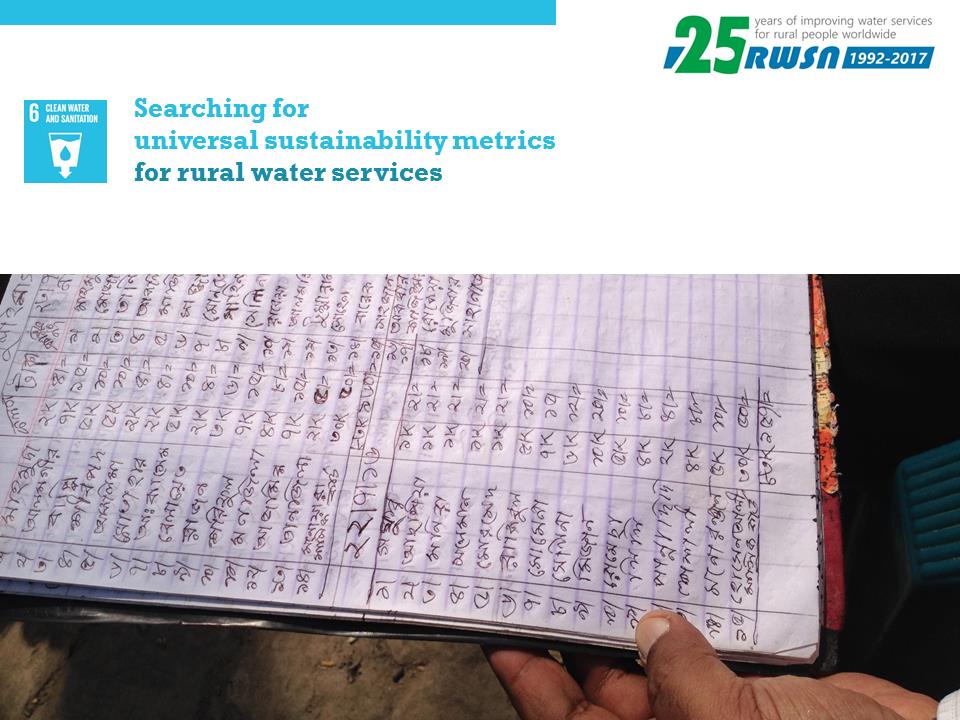 SDG6, which includes universal water access by 2030, is a formidable challenge for countries struggling to maintain existing services. 30-40% of rural water systems in developing countries under-perform or are broken, sometimes soon after construction. Better monitoring is needed to target post-construction support. Urban water has standardised performance metrics for utilities but rural enjoys no such consolidation. There is rapid innovation around the world, but diverse metrics are used. The JMP provides better monitoring of service levels, but not yet of their sustainability.
The session presents evolving concepts on metrics of performance and sustainability of rural water services and discusses the feasibility to use and agree on core indicators across different country settings. The session uses ignite-style presentations showcasing experiences of using sustainability metrics from Brazil, Nepal, Rwanda, as well as multi-country learning on sustainability-checks and proposed convergence of sustainability metrics from a multi-country review. With interactive polling, panelists will engage the audience and debate the desirability and feasibility of universal core-indicators, and what it will take for governments to include them in national or local monitoring to incentivise better service delivery and water safety.
Programme
16:00 Welcome
Chair: Kelly-Ann Naylor, Executive Chair of the RWSN
16:05 Block 1: Why Sustainability metrics? How would a core set of indicators look like?

A Conceptual framework for monitoring sustainability of rural water
Susanna Smets, The World Bank Group
Proposed sustainability metrics from a multi-country review
Stef Smits, Senior Programme Officer, IRC
Evolvement of sustainability checks – Results from country learning
Angela Saleh, UNICEF

16:45 Block 2: How could countries successfully adopt sustainability metrics?
Lessons of local adoption of sustainability metrics in Rwanda, Ms. Ellen Greggio, Advisor Monitoring and Mapping, WaterAid
Using SIASAR to improve regulation of and support to rural service providers
Mr. Alceu Galvão, Water Supply and Sanitation Coordinator at State Secretary of Cities in Ceará, Brazil
Less is more: how participatory monitoring can enhance sustainability, Mr. Chandra Bahadur, Director Regional Monitoring and Supervision Office, Mid-West region, Nepal


17:25 Closing Reflections
Maria Angelica Sotomayor, Manager Global Water Security and Sanitation Partnership, The World Bank Group
17:30 Close of session