Deutsche Gesellschaft für Internationale Zusammenarbeit / International Water Management Institute / World Wide Fund for Nature / CGIAR Research Program on Water, Land and Ecosystems
ASIA Focus - Towards a healthy Ganges
Wednesday 30 August | 09.00-10.30 | Room: NL Music Hall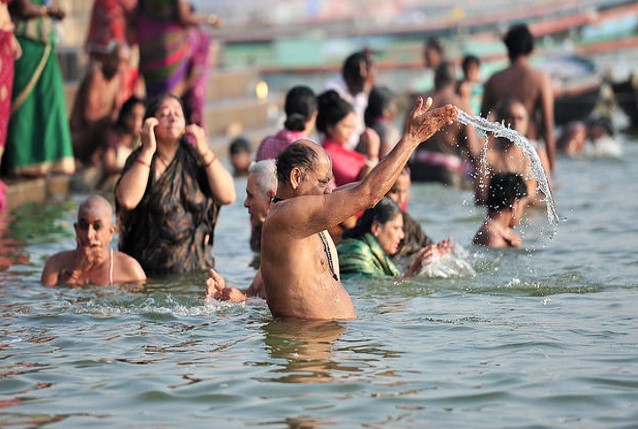 Despite current efforts, with shrinking water flows and an ever increasing amount of pollution the river remains heavily polluted. Fecal contamination is a case in point as coliform levels are high all along the river and make the water unsuitable for bathing and drinking purposes, with the exception of few upstream locations.
Addressing the formidable and multidimensional challenges that the Ganga is facing will require new knowledge, capacity development, massive financial resources, appropriate technologies, partnerships, good planning and stakeholder engagement. Future solutions need to be comprehensive and innovative, ambitious but realistic, and learn from previous efforts to clean the river and international experiences.
This session will start with a short overview of key challenges for the Ganga river health based on years of research and expert opinion. Presentations on fecal pollution control, environmental flows and river basin mangement will follow to provide data, evidence and success stories to set the background for the panel discussion. Facilitated professionally, this pannel will comprise national and international experts with opportunities to interact with the audience.
The session will build upon the recent fundings from the WLE project Healthy Ganga: cleaner waters and more productive ecosystems (https://wle.cgiar.org/healthyganga)
Programme
9:00 Welcome and introduction
Luna Bharati, IWMI
9:05 Reducing fecal pollution in small cities along the Ganga
Javier Mateo-Sagasta, IWMI
9:10 Restoring Environmental flows: A framework for the Ganga
Suresh Babu, WWF
9:15 From Danube to Ganga: Lessons learned for sustainable river restoration
Fritz Holzwarth, GIZ
9:25 Energizer: audience to discuss in groups questions for the panel
9:45 Facilitated panel discussion
Facilitator: Mia Signs, CGIAR program on Water, Land and Ecosystems
Panelists:
Dipak Gyawali, Nepal Academy of Science and Technology
Fritz Holzwarth, GIZ
Dave Tickner, WWF
Arnaud Cauchois, ADB

NMCG rep, Government of India (tbc)

10:25 Wrap up and key takeaways
Javier Mateo-Sagasta, IWMI
10:30 Close of Session
Conclusion
The Ganaga bsin is facinfg multiple chalanges th