Nestlé / Alliance for Water Stewardship / Water Foundry / International Water Management Institute / WWF Pakistan / Manos al Agua platform / Ashoka
The Value of Collective Local Action-creating the Shared Water Plan
Tuesday 29 August | 09.00-10.30 | Room: FH Cabaret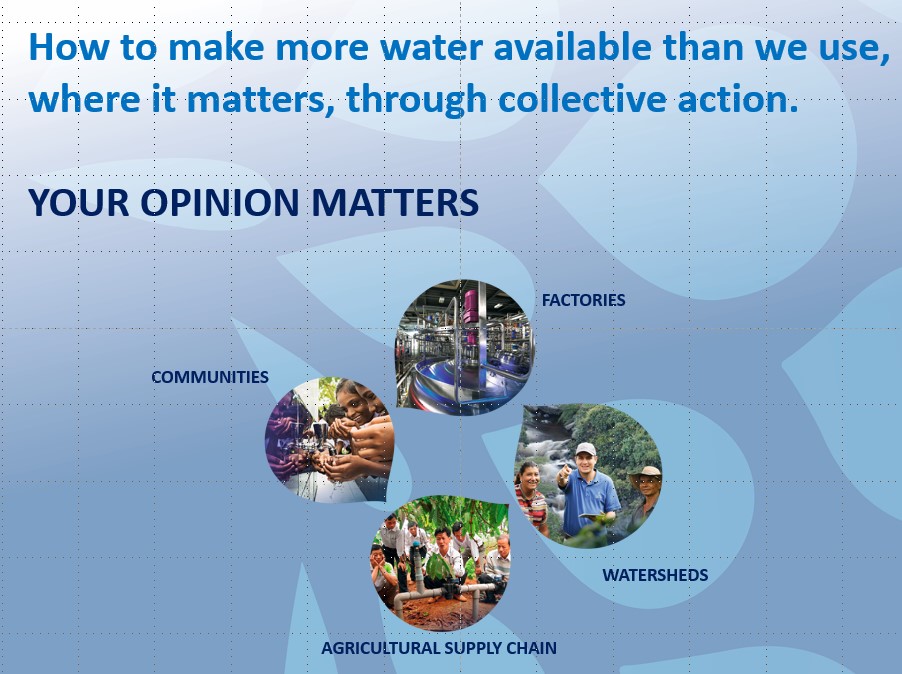 Nestlé and its partners are discussing local water stewardship initiatives to evaluate new ideas and finding new ways to maximise impact on water: minimising water use in factories and in agriculture; promoting local initiatives to protect shared water resources and ensuring access to clean safe water to communities.
Our aim to be responsible stewards of water. For decades we have worked hard in our direct operations to improve water efficiency. We have reduced the amount of water used per tonne of product by 40% over the last ten years. While we continue to reduce, reuse and recycle in our facilities, we also work beyond the factory gates. We have learnt that we can achieve even more by working with others such as farmers, communities or local governments, pooling our efforts and resources.
We are convinced that through collective action we can make an even greater impact.
Join us in finding more sustainable system of water management
Programme
Theme 1 of Showcase: The Big Picture – the Water Challenge for food and beverage multinationals
09:00 Brief introduction by the moderator
09:05 The big picture - Discussion on water challenge and options

Christian Frutiger, Head of Public Affairs, Nestle
Adrian Sym, Chief Executive Officer, AWS
Will Sarni, Water strategy and technology advisor, Founder & CEO Water Foundry
Claudia Sadoff, General Director, IWMI
Marta Echavarria, Ashoka
09:30 Q&A
Theme 2 of the Showcase: Scaling Pilots
09:45: Round table discussion on specific water collective actions
Hammad Khan, CEO, WWF Pakistan
Andrea Mordo, Manos al Agua Project Manager, Federación Nacional de Cafeteros de Colombia
Eileen Hofstetter, SDC

10:05 Q&A with the moderator
10:15 Plenary Q&A
10:25 Summary and wrap-up by moderator
10:30 Close of session