Ceres / World Wide Fund for Nature
#SIWISofa: The AgWater Challenge: Corporate Progress and Learnings
Tuesday 29 August | 11.00-11.30 | Room: Exhibition Hall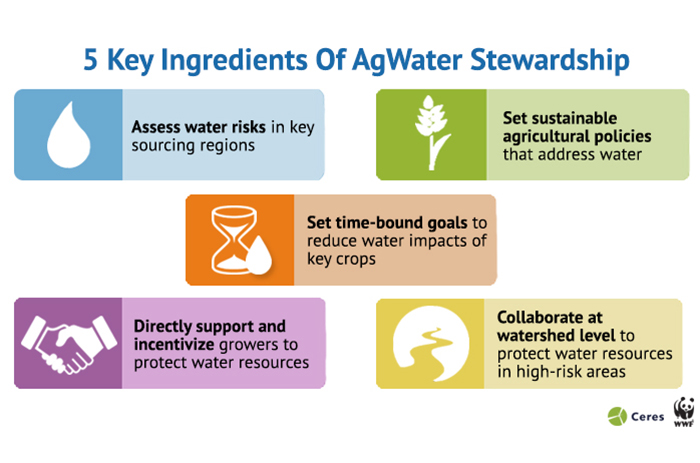 Agriculture consumes over 70 percent of the world's freshwater. Food and beverage companies, and their supply chains, comprise most of the sector's water use and associated water quality impacts through crop irrigation and livestock production.
To address this, Ceres and WWF launched the "AgWater Challenge" in 2016 to influence and recognize corporate water-related commitments among food and beverage sector companies and their supply chains.
The "Challenge" provides unique incentives for companies to develop time-bound, measurable commitments that address agricultural supply chain impacts, protect freshwater, and reduce runoff and provides companies with technical assistance from leading NGOs resulting in more meaningful goals and commitments.
Last year, the Challenge recognized seven major companies – Diageo, Hain Celestial, Hormel Foods, General Mills, Kellogg, PepsiCo, and WhiteWave Foods – as AgWater Stewards. Together, the companies shared their leadership stories and released (in total) 18 new commitments to improve water efficiency, create water stewardship policies, and develop time-bound roadmaps for agricultural water stewardship.
Tune into this SIWI Sofa session to hear their lessons learned, progress toward commitments and exciting next steps for engagement in the AgWater Challenge.