Sanergy / African Population and Health Research Center / Nairobi Water and Sewerage Company / Nairobi County Government
Mapping the Urban Sanitation Challenge – Nairobi SFD
Wednesday 29 August | 14.00-15.30 | Room: NL 353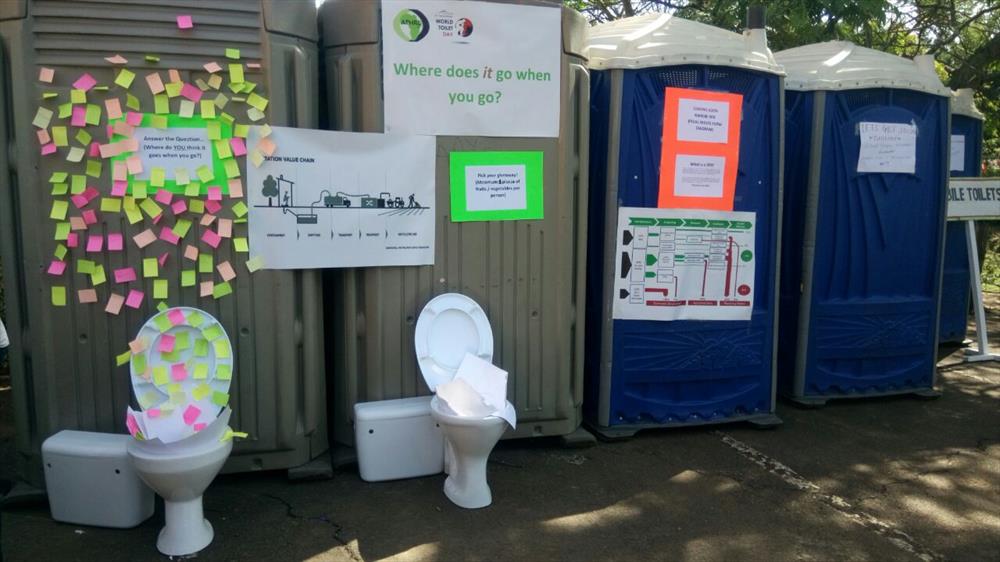 Kenya's 2010 constitution affirmed the right to sanitation for all. The 2016-2030 Kenya Environmental Sanitation and Health Policy is one of the most progressive national policies to take a full sanitation value chain approach. It mandates the participation of multiple stakeholders: government, utilities, regulatory bodies, and private sector and NGO practitioners along the value chain. And yet, with such ambition comes complexity on how to deliver these services, especially to Nairobi County, a metropolis of 4 million where 50% live in informal settlements.
In 2017-18, APHRC and Nairobi County jointly convened a research effort to develop a Shitflow Diagram – a mapping process and tool to understand and identify the multitude of pathways for waste disposal, both sewered and non-sewered. The SFD process enables an open discussion of the current situation, the pooling of information from stakeholders and the development of a credible baseline depicting the state of management of both waste water and fecal sludge.
This event will showcase the peer-reviewed results of the SFD process. The event will then transition into a candid discussion on what happens next with all stakeholders represented: Nairobi County, Nairobi Water, private sector (Sanergy), and regulators. APHRC will moderate the event.
Programme
Mapping the Urban Sanitation Challenge- Nairobi SFD
Time: Wed, August 29 - 2pm-3:30pm
Location: NL 353
----------------------------------------------------------------------------------------------------------
Panelists: Caroline Kabaria (African Population and Health Research Center), Lucy Njambi (Nairobi Water and Sewerage Company), Kepha Ombacho (Ministry of Health), Mario Kainga (Nairobi City County Government)
Moderator: Alex Manyasi (Sanergy)
-----------------------------------------------------------------------------------------------------------
Welcome (5 mins)
● Purpose of today by Alex:
1. Share how and why these stakeholders came together to develop Nairobi SFD
2. Share the results of the Nairobi SFD
3. Share thoughts on the way ahead
4. Get your thoughts on what the way ahead could be
Introductions (5 mins)
● Name, Affiliation
1. The How and The Why (Total 20 mins)
● Overview by Caroline on the context, purpose, process and validation (5 mins)
● Question for Kepha, Lucy and Mario (15 mins)
2. The Results (Total: 20 mins)
● Caroline unveils the SFD (10 mins)
○ Offers key quantitative and qualitative highlights
● Questions for the panel (10 mins)
○ What was the most eye-catching bit for you?
○ How did this match up with your expectations of what you thought the SFD would show?
3. Looking Ahead (Total 20 mins)
● Alex shares 2 examples of what's happened in other cities with SFD completed (5 mins)
● Question for panel:
○ What tangible steps do you see your organization taking in light of this SFD?
○ How can you, as stakeholders, collaborate whilst armed with the SFD?
○ What else needs to happen for meaningful next steps to occur? Whose support do you need to enlist?
Ideas from the Audience on the Way Ahead (20 mins)
● Open the floor to the audience to gain their thoughts, insights and questions about a way ahead.