United Nations Children's Fund / UNDP-SIWI Water Governance Facility
WASH bottleneck analysis tool (WASHBAT) to strengthen the enabling environment
Wednesday 29 August | 09.00-10.30 | Room: NL 353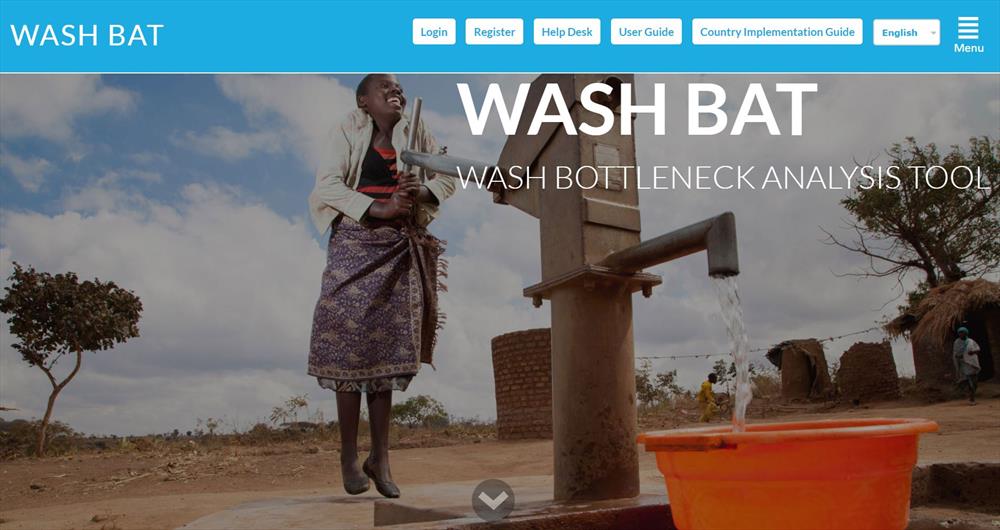 The WASH bottleneck analysis tool (BAT) was created in 2012, contributed to by many sector organizations with the aim of aligning governments and sector partners behind a common understanding of the sector 'building blocks' (strategy, institutions, financing, M&E, capacity development). In 2015, an online version of the tool was created www.washbat.org. Until 2018, the tool has been applied in over 20 countries in Africa and Asia, with a plan for broad global rollout. The tool has proven to provide a unique opportunity to convene a wide range of stakeholders to identify the key bottlenecks to sector progress and develop a costed plan for addressing these bottlenecks. This event aims to share lessons from the implementation of the WASH BAT process, and learn what might be done differently in these and other countries in terms of identifying priorities and developing strategies to strengthen the WASH sector enabling environment. The event also provides an opportunity to discuss with governments and partners how to use available policy tools more efficiently (e.g. through consolidation of tools and harmonization of frameworks) and better organize technical assistance from development partners.
Programme
09.00 Welcome, and introduction to the WASH Bottleneck Analysis Tool (BAT)
Moderator: Silvia Gaya, UNICEF
09.05 On-screen demonstration of the online tool and key features, with Mentimeter feedback
Presenter: Guy Hutton, UNICEF
09.20 Can the WASH BAT be used in conflict or fragile settings?
Presenter: Omar El Hattab, UNICEF
09.25 Country experiences: government and partner perspectives
Moderator: Silvia Gaya, UNICEF
Presenter: Video presentation from the Ministry of Climate Change, Government of Pakistan
Presenter: Dr Negash, State Minster of the Ministry of Water, Irrigation and Energy, Government of Ethiopia
Presenter: Mr. Md. Abdur Rauf, Joint Secretary, Policy Support Branch, Local Government Division, Ministry of Local Government, Rural Development & Cooperatives, Government of Bangladesh,
10.00 Accompanying tools to the WASH BAT: accountability mapping
Presenter: Pilar Avello, SIWI
10.05 Accompanying tools to the WASH BAT: sustainability compacts/checks
Presenter: Angie Saleh, UNICEF
10.10 Mentimeter feedback
10.15 Panel question and answer
Moderator: Silvia Gaya, UNICEF
10.25 Summary and closing remarks: Alejandro Jimenez, SIWI
10:30 End of session
Conclusion
The session began by introducing the WASH BAT (www.washbat.org) methodology and online interface and its applicability across both development and fragile/humanitarian contexts. This was followed by a deep dive into three country examples where Government Representatives provided honest feedback on how the tool has been used in their countries. In Bangladesh, it is being applied in seven divisions first across all WASH sub-sectors (including institutions) before a national level assessment - and will support the upcoming government budgeting and planning process. In Ethiopia, the WASH BAT helped support the preparation for the second phase of the ONE WASH National Programme, and helped identify solutions for rural service provision. Pakistan presented a video interviewing various stakeholders in the WASH BAT, describing the way it has been integrated into the Joint Sector Review and government planning processes in five provinces. All presenters underlined the importance of the participatory process of the tool implementation. Interventions were also made on how the tool can be applied in conjunction with other tools to apply a variety of lenses to the WASH BAT process, such as the SDG Costing and Financial Gap Tool, the Accountability Mapping tool and the Sustainability Framework. The audience identified some issues to take into account, and countries for possible future application.