Bill & Melinda Gates Foundation / Water and Sanitation for the Urban Poor / Lusaka Water and Sewerage Company
Enabling environments for inclusive city wide sanitation: a conceptual framework
Wednesday 29 August | 09.00-10.30 | Room: NL 253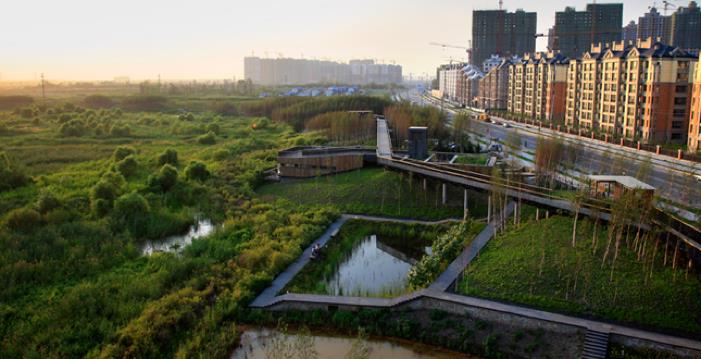 SDG6 cannot be achieved without the development of supportive city and national-level enabling environments, positioning institutions to keep pace with explosive population growth, and to serve everyone in the city. Despite its evident importance to achieving scale, the components of a well-functioning enabling environment for urban sanitation are weakly understood and conceptualised.
This session will introduce a new framework for conceptualising and evaluating urban WASH sector functionality [grounded in WSUP's experience of implementing urban WASH programmes in six countries]. Through the framework we will explore the diverse components of a well-functioning enabling environment for urban WASH services, ranging from political commitment, institutional mandates, investment planning and regulatory effectiveness to private sector enablement, consumer behaviour and willingness to pay. The discussion will be enriched by examples of how individual framework components have been strengthened to improve service provision for all in Dhaka and Chittagong (Bangladesh) and Kisumu (Kenya); and how the framework is now being applied to influence city-level sanitation planning and management in Lusaka (Zambia). We will hear the first-hand perspectives of regulators, municipalities and utilities working to achieve inclusive city wide sanitation, including NWASCO, Zambia's water and sanitation regulator; Kampala Capital City Authority; and Lusaka Water & Sewerage Company.
Gold standard events are committed to ensure the gender balance in speakers/panellists and young professional representation in the session.
Programme
09.00: 1A. Welcome, housekeeping, session context and rationale - Sam Drabble, Head of Research & Learning, WSUP
09.05 - 09.15: 1B. Plenary: key components of the enabling environment
- Participants invited to brainstorm key components of the enabling environment for urban WASH services; components captured on flip chart paper
09.15 – 09.25: 1C. Sector Functionality Framework (SFF): content and application
- Brief overview of SFF; audience engagement with the framework followed by mentimeter poll on priority areas; introduction to programmatic case study: WSUP 2012-2017 BMGF-funded programme
09.25 – 09.30: 2A. Experience from Kenya - Eden Mati, Programme Coordinator, WSUP Kenya
- Rapid presentation of core activity to strengthen the enabling environment in Kisumu: 1) regulatory effectiveness - development of Standard Operating Procedures (SOPs); 2) capacity development – support to Gasia Poa (faecal waste collection business)
09.30 – 09.35: 2B. Experience from Bangladesh - Jeremy Horner, Director of Programmes, WSUP
- Rapid presentation of core activity to strengthen the enabling environment in Dhaka and Chittagong: 1) institutional mandates – support to development of Institutional and Regulatory Framework (IRF); 2) private sector enablement – replication of SWEEP PPP arrangement; 3) affordability and consumer willingness to pay – SWEEP differential pricing strategy
09.35 - 09.40: 2C. Experience from Zambia - Sibongile Ndaba, Business Development Lead, WSUP Zambia
- Presentation of core activity to strengthen the enabling environment in Lusaka: 1) Behaviour change communication; 2) on-site sanitation support; 3) opportunity to synthesise programmatic learning to influence city-level sanitation planning and management under LSP
09.40 - 09.50: 2D. Audience Q&A
- Informal Q&A on country-level presentations and Sector Functionality Framework
09.50 - 10.25: 3A. Service provider and donor approaches to strengthening enabling environments
- Eng. Jilly Chiyombe, Director for Infrastructure, Planning & Development, Lusaka Water & Sewerage Company
- Danielle Pedi, Senior Program Officer, Urban Sanitation Markets, Bill & Melinda Gates Foundation
- Eng. Peter Mutale, Chief Inspector, National Water Supply and Sanitation Council (NWASCO)
- Dr. Najib Bateganya, Deputy Director, Public Health & Environment, Kampala Capital City Authority
10.25 - 10.30: 3B. Wrap up
- Closing reflections and recommendations
Conclusion
Conclusion
The content of the session reflected emerging sector-wide consensus on the importance of "systems change" for achieving SDG6. A necessary shift is taking place: away from a narrow focus on building taps and toilets, and towards an understanding of water and sanitation as a service, whose effectiveness depends on the wider enabling environment. The session began with acknowledgement that in simple terms, universal coverage requires services which are 1) sustainable and 2) delivered at scale – and neither is possible without strong systems.
WSUP's Sector Functionality Framework (SFF) is one of multiple tools developed in recent years to inform system-strengthening activities (a prominent example is the UNICEF WASH-BAT "enabling factors" categories, on which the SFF is partially based). The session demonstrated that frameworks of this type have wide-ranging applications, including to track and assess sector functionality over time; to build stakeholder consensus on key sector bottlenecks, and ultimately to inform national-level decision-making; and to support intermediaries like WSUP in planning, prioritising and sequencing programmatic activity.
The session closed with first-hand perspectives from institutional partners. The discussion highlighted that despite the enormous challenges involved in strengthening enabling environments, institutions are making genuine progress towards citywide sanitation in diverse locations in Sub-Saharan Africa. Lusaka was identified as one example where the conditions are gradually being put in place to stimulate FSM service provision at the city level with support from the Lusaka Sanitation Project.
Recommendations
• Donors and IFIs must remain cognisant of the importance of the enabling environment – including (for example) governance, capacity and financial flows – for achieving sustainable water and sanitation provision at scale. Activities to strengthen these components must be given due priority.
• Conceptual frameworks have an important role to play in effecting systems change: donors and intermediaries should consider leveraging frameworks of this type to help structure their thinking around sector functionality and to develop pathways to change.
Initiatives
Agenda for Change promotes a systems-wide approach to key building blocks of the water and sanitation sector – policy, financing and institutions – including through the ongoing development of a WASH systems framework.
UNICEF created the WASH bottleneck analysis tool (BAT) in 2012 with the aim of aligning governments and sector partners behind a common understanding of sector 'building blocks'. An online version of the tool is available at www.washbat.org