Blue Deal consortia / Global Water Operators' Partnerships Alliance at UN-Habitat / Government of the Netherlands / WaterWorX / Wetlands International
Resilient water services in an increasingly water insecure world
Sunday 26 August | 09.00-10.30 | Room: --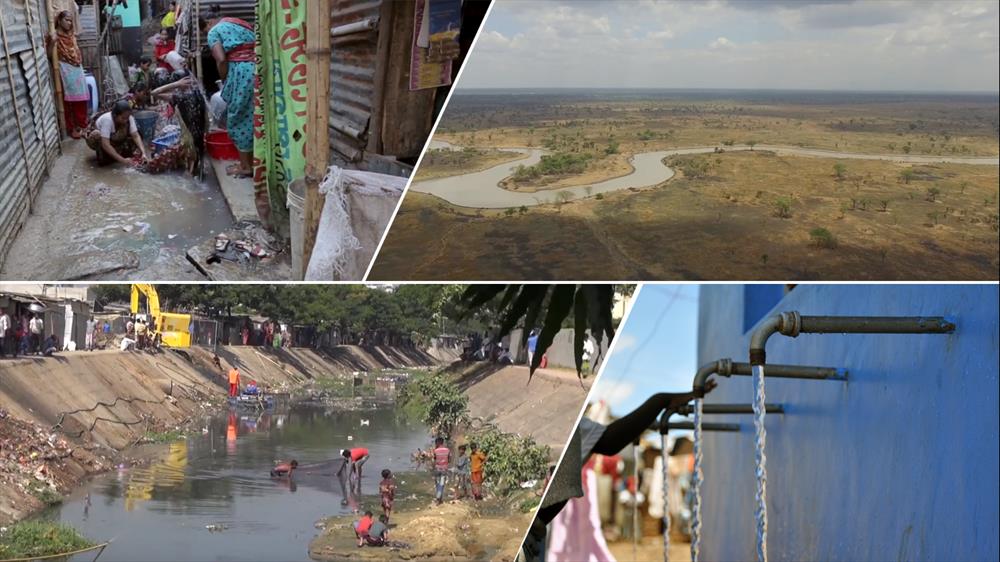 WASH services depend on, and have an impact on ecosystems. Economic growth, population growth, urbanisation and climate change create enormous pressure on ecosystems, and on the availability of water sources. Water is often extracted in an unsustainable way and (un)treated wastewater negatively impacts the environment. Additionally, the reduction of good quality water resources is often leading to tensions or conflicts between water users. We will explore solutions for these complex problems, focusing on the question: how are we going to make our water services more resilient in an increasingly water insecure world?
The interactive discussion involves inspiring practitioners and the winner of the video contest for young experts. The session will particularly focus on sharing best practices in coping with the complex problems faced by urban utilities, as they are required to take on an integrated approach to improving quality and access of service delivery while at the same time addressing water security. Making use of case studies from Mali, Ethiopia and the Philippines, participants will be encouraged to share their experiences and knowledge, and to identify good practices and learning gaps regarding the adoption of integrated approaches to water security and sustainable WASH service delivery.
Gold standard events are committed to ensure the gender balance in speakers/panellists and young professional representation in the session.
Programme
09-00 - 09.10 Word of welcome & General introduction
A short introduction on the topic will be given, highlighting key linkages between environmental and socio-economics trends leading to increasing pressures on water services, and the need to make our water services more resilient. Speaker: Clarissa Brocklehurst, Senior Advisor at Sanitation and Water for All (SWA).
09.10 - 09.50 Interactive case study working groups, including video introductions
The audience get to engage in brainstorm sessions with the aim to share expertise and experiences in order to come up with possible ways on how to tackle the problems presented in the case studies. These include challenges related to too little, too much, and too dirty water in the context of increasing environmental and socio-economic pressures. The cases are brought to you from:


Ethiopia: Water scarcity and source protection.
Moderated by: Hein Pieper, Vice President of the Dutch Water Authorities, and Marijn Korndewal & Kidist Ketema Bekele, Young Experts for the Dutch Water Authorities and the Awash Basin Authority.
The Philippines: Resilience and disaster preparedness.
Moderated by: Dr. Hilly Ann Roa-Quiaoit, Vice President for Research and Social Outreach at Xavier University Cagayan de Oro.
Mali: Water access and quality challenges.
Moderated by: Boubacar Kane, CEO of the Malian drinking water utility (SOMAGEP).

09.50 - 10.05 Q&A with the winner of the video contest for young professionals
In the build-up to this event, a video contest has been organized to give young professionals working in the water sector the chance to share their story and ideas on how to make our water services more resilient. During the Q&A the winner gets to share his story and ideas with the audience. Video contest winner: Wesley Kipng'enoh, Mount Kenya Ewaso Water Partnership. Moderated by: Melissa de Raaij, Ministry of Foreign Affairs, the Netherlands.
10.05 - 10.20 Summarizing presentations by the case moderators
Each case moderator will give a 2-3 minute presentation, including the outcomes of the brainstorm sessions.
10.20 - 10.30 Interactive call for action & Wrap-up
A creative and interactive call for action will take place with the aim to establish a learning and/or action agenda. The morning will end with a wrap-up summarizing the session. Moderated by: Clarissa Brocklehurst, Senior Advisor at Sanitation and Water for All (SWA).
.








Conclusion
Overarching new insights:

Ensure good local stakeholder involvement, and make use of local knowledge. Clear and inclusive (and attractive) communication is key.
Systems thinking is important for sustainability.
Lessons learned
Mali:
There needs to be driver, a lead in harmonising and coordination of the approaches; need to work on regulation.
You really need to involve the communities and make sure their voices are heard.
Need to include the private sector; they are often a source of pollution.
Pollution behaviour need to change at all level (set up education). The knowledge is often there, but how do we support implementation of this knowledge in effective solutions
Ethiopia:
You need to know how the whole system works at the different levels; how does it work, what are the problems? To be able to solve the problem. There is a knowledge gaps on this.
Innovations:
Improve the local community networks: Know and acknowledge the knowledge of your local communities
Mali: more involvement of the users in all phases of decision making.
Philippines:
Need to strengthen the local governments and involve them in the monitoring, in early warning systems, monitoring of reforestation efforts. Come up with a system that enable local governments to monitor landscape efforts.
Key actions :
Mali:
We have a multi-stakeholder platform including national government, donors and NGO's that should work on:
Water can finance water
Improve governance of water
Public awareness
Start with regulation. New water law in Mali. Water pays water.
Set up communication channel between different stakeholders.
Philippines:
Implement the policy: Bring people out of high risk areas
- Identification of high risk areas to focus efforts for financial support and reforestation activities ec
- Building capacities to river basin risk management ( landscape approach to address disasters). Problems are downstream but causes are upstream.
Ethiopia:
Don't make the problem too big. Try to break it down in small projects. Important is to know the water demand, how the systems works and involve the community. You can't solve the bigger problem at once- but address it in small solutions.
What should be on the learning agenda?
We can built a learning community involving many countries, involving different organisations. The session showed that people from different countries recognize the problem in e.g Ethiopia-
Main conclusions*:

The importance of political leadership
Meaningful involvement of Communities' is a critical factor addressing water security issues and in planning resilient WASH systems
Multi- stakeholder and multidisciplinary approaches
The importance of addressing behaviour change
Use learning to put pressure on political leadership
Main recommendations*
Make deals that stands for several years ( more than 10 years)
Put in place a network involving Civil Society Organisations and private sector. Important to learn from each other. Mali can share their experience on water quality (too dirty water) and Philippines on dealing with floods ( too much water)
Focus on incentives and awareness raising about the threads of a water insecure world. Interdisciplinary aspects is important e.g including media
New initiatives:
• Ethiopia case: Set up catchment management forums and community offices.