Water Youth Network / Deltares / IHE Delft / International Water Centre / Global Water Partnership
Trade-offs and synergies between the sustainable development goals
Thursday 30 August | 16.00-17.30 | Room: FH 307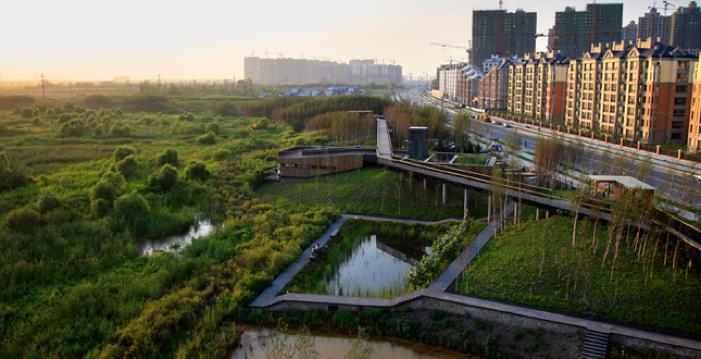 Integrated water resources management requires finding a balance between the use and protection of water resources at the catchment scale for achieving the Sustainable Development Goals and targets. Although the SDGs have a common objective, certain targets may seem conflicting when combined. For example, how to protect and restore water-related ecosystems (Target 6.6) and expand infrastructure and upgrade technology for supplying energy services (Target 7.5)? This event aims at engaging groups of water professionals into spontaneous discussions related to trade-offs and synergies between the SDGs.

The event will be divided into two stages:

i. Introduction and case studies - panel presentations
ii. World Cafe - group discussions
See the programme below for more information.
Gold standard events are committed to ensure the gender balance in speakers/panellists and young professional representation in the session.
Programme
i. Introduction and case studies - panel presentations
ii. World Cafe - group discussions

Moderator: Kelly Fouchy and Shabana Abbas (WYN)
16:00 i. Introduction – Kelly Fouchy (WYN) will introduce the session, and talk about the knowledge that already exists regarding this topic (summary of literature/international studies related to trade-offs and synergies between the SDGs) and the results of the survey "Youth Perspective on Trade-offs and synergies between the SDGs" created by the Water Youth Network, 15 min

Practical case studies around the world - How to deal with SDGs trade-offs and synergies in practice? Speakers (3) 10 min each:
16:15 Case study 1: Mara River Basin, Kenya & Tanzania (Michael McClain from IHE Delft)
16:25 Case study 2: Multi-purpose dams for integrated river management in Jalaur basin, the Philippines (Monica Altamirano from Deltares)
16:35 Case study 3: Southern Africa experience on Water - Energy - Food nexus governance (Kidane Jembere from GWP Southern Africa)

16:45 ii. World Cafe - participants will be separated into 3 groups lead by facilitators to discuss challenges - 30 min

Challenge 1: How to allocate water for agriculture (SDG 2) and water for river ecosystems (SDGs 6 & 15)? Facilitated by Michael McClain from IHE Delft
Challenge 2: How can we promote access to electricity (SDG 7) without affecting access to water (SDG 6) and without degrading aquatic ecosystems (SDG 14) upon which fisheries for food rely (SDG 2)? Facilitated by Faduma Ali from Water Youth Network/UN Water and the International Water Centre
Challenge 3: How to promote urbanization (Goal 11) and prevent and significantly reduce freshwater and marine pollution (Targets 6.6 and 14.1)? Facilitated by Maria Angelica Sotomayor from the World Bank

17:15 Each group formed during the world café will synthesize and present a list of tools or solutions for reconciling the SDGs - 5 min each (15 min)

17:30 End of the session

Conclusion
This session presented 3 case studies on trade-off and synergies between SDG in River Basin level followed by World Café session which discuss the trade-off of SDGs and how to achieve the synergies. Mara River Basin with water allocation plan, Jalaur River Basin with IWRM concept, and SADC with WEF-Nexus. The session gave a breath of fresh air for the predicted future problems on the water. Because it not only exposed the contradictions amongst SDGs but also showed how several ones can be included when targeting a single one. This is observed throughout the various presented case studies; which they not only showed the country-present water-problems but also successful solving stories. These three cases explain using limited water resources by paying attention to demand-supply, a strategy used to synergies all related SDGs must be treated well and fairly. Engagement with the local community and local government must be carried out properly. Political pressure is always present in the regulatory process so that the role of political leaders/agency above the minister is important to help compile and collaborate the River Basin Plan. This is necessary because cross-sectoral organizations with various interests will be involved in the planning. During the discussion of the World Café, the participants were engaged and everyone participated to propose and contribute to the solutions regarding the challenges proposed.

Recommendations
Intensify dialogue of cross-sector with the assist of high political leader/ agency above ministry level. This "trick" will reduce political push on river basin planning. Emphasize the dialogue in the concrete outcome (goals and targets) ;
The supply-demand concept is important for river basin planning. Adjust planning based on low flow and give a clear threshold to maintenance flow for the ecosystem. This threshold must explicitly be written in River Basin Regulation.
Initiatives, tools or networks that support the learning objectives or that have fostered the goals of your session
Case study session is important to give insight for the participant for a better understanding of the concepts since participants have different education, professional, and cultural background. A case study from developed and developing countries with each success story in author opinion could give a better comparison and different perspectives on achieving objectives;
World Café session is good to build the warm and intensive discussion. Printed group case with a key point can be provided in each table to ease the discussion for the next event.