mWater / Scottish Government, Government of Malawi / University of Strathclyde
Country-led asset management systems to improve WASH services
Thursday 30 August | 16.00-17.30 | Room: M4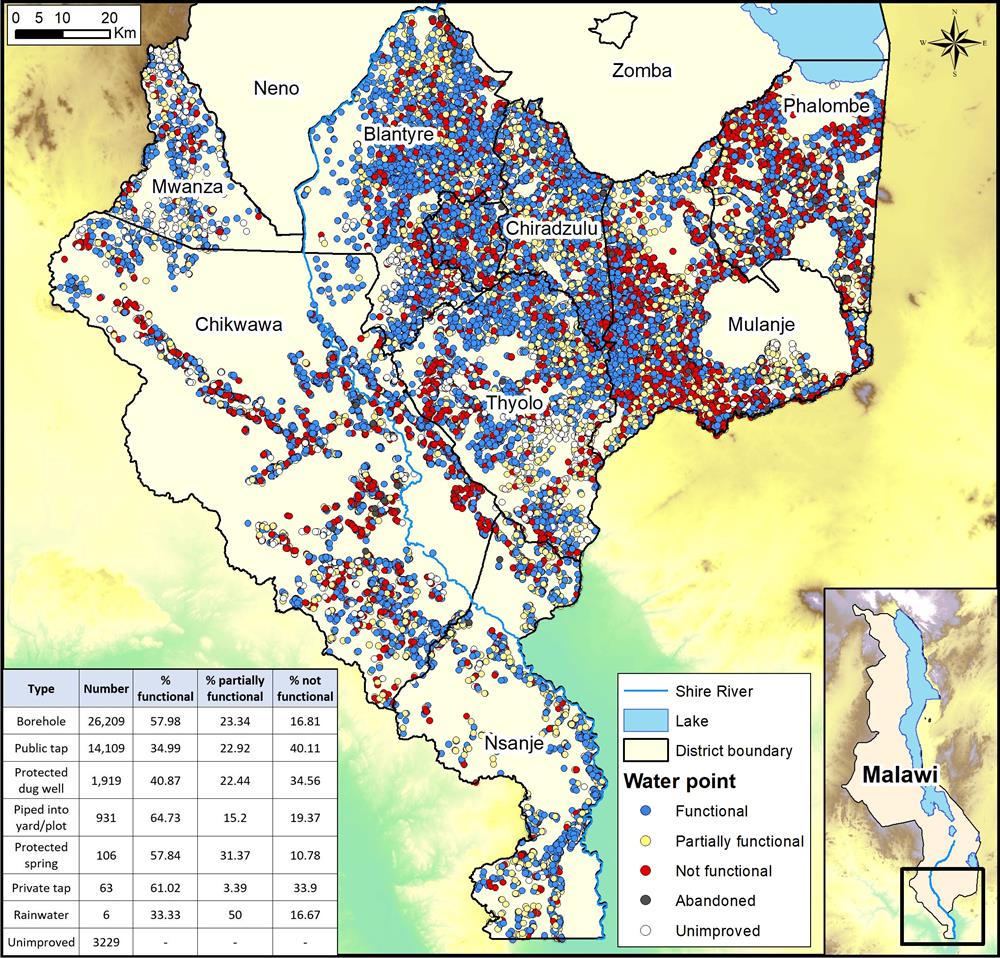 The event will share experiences of the Scottish Government Climate Justice Fund Water Futures Programme (2011-2030) supporting the Government of Malawi to achieve SDG6. The programme is centred on policy and skills for water governance combined with detailed national mapping of type, location, condition and key features of water and sanitation infrastructure in Malawi. The mapping contains other key data such as domestic water systems, surface water, healthcare facilities, and schools. A roll-out plan across Malawi is in process to widen the mWater user base across Government and others such as water sector NGO's, private sector water users,
The Scottish Government shares Water Governance experience with the Government of Malawi to establish a regulatory framework that is effective in directing investment and maintenance operations matching priorities illuminated by analysis of the core data set. This programme is providing accountability information on which future investments will be planned. Example: underpinning support for SOPs to improvement of safe and accurate drilling across Malawi. The mWater asset mapping data clearly shows functionality is linked to poor investment practice and assets require re-investment to either redevelop through Borehole Forensics or require decommissioning per the Legislative requirements of the Malawi WRA (2013).
Gold standard events are committed to ensure the gender balance in speakers/panellists and young professional representation in the session.
Programme
16:00 Welcome by moderator
Part 1: Focus on Malawi
16:05 Malawi's approach to national monitoring in the context of the SDGs

Modesta Banda Kanjaye, Government of Malawi
16:10 Beyond mapping: National asset analysis to underpin SDG6

Alexandra Miller, University of Strathclyde
16:20 Boots on the ground: Lessons from the national asset mapping effort in Malawi
Muthi Nhlema, BASEflow
16:30 Question and answer / interactive voting
Part 2: Perspectives from other countries working on WASH asset management
16:40 Lightning talks on asset management experiences from other countries
17:00 Panel discussion: Opportunities and challenges with using asset management data to inform WASH indicators
Final members for panel TBA
17:15 Question and answer for panelists
17: 25 Summary and wrap-up by moderator