African Ministers' Council On Water
AFRICA Focus- High Level Ministerial Panel: From Policy to Action
Wednesday 29 August | 11.00-12.30 | Room: M2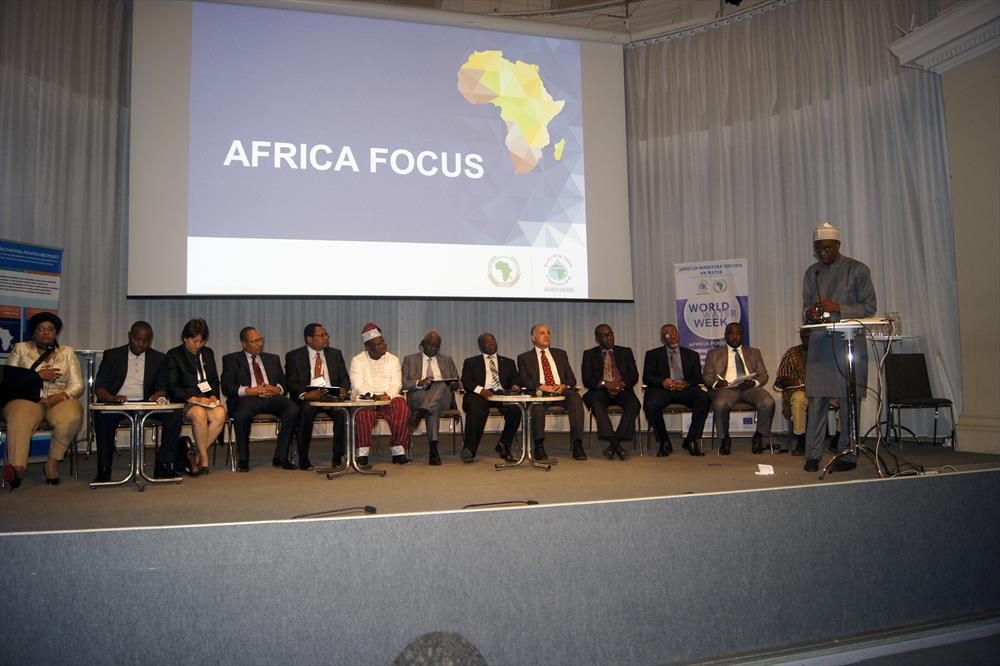 AMCOW will mobilize its ministers on the continent to ensure their participation at the high level panel. It will also mobilize other sectors ministers like housing/urban development, youth empowerment and works and housing. This is because many of the problems will require multi-sectoral solutions. It is because AMCOW has seen the value of involving other relevant sectors in the dialogue towards sustainable solutions in the water sector
The High Level Ministerial Panel will discuss actions required to address issues identified in the three technical sessions and come up with policy and strategic directions to be undertaken at continental, regional and national levels. That will also provide directions to stakeholders present as well as to the Development and Implementing Partners, Civil Society Organisations and Private Sector attending the Africa Focus.
The session will feature questions from a moderator and the audience and answers from the Ministerial panel.
Programme
Event Description:
To achieve the SDGs in 2030, the world needs new approaches and effective strategic partnerships. Cooperation, collaboration and synergies are imperative. Business as usual and working in silos are not viable options. The stage has been set by African Ministers responsible for sanitation towards the end of the MDGs era in 2015 in Dakar, Senegal at the 4th AfricaSan Conference. The 8th Commitment in the N'gor Declarations endorsed says that Africa will, ''Progressively eliminate untreated waste, encouraging its productive use''.
In November 2018, The AMCOW Executive Committee, reiterated that commitment by approving the AMCOW Strategy 2018-2030 that in addition to Safely managed sanitation, takes ambitious commitment towards achieving water security and good water governance as means to ensure sustainable socio-economic development for the African continent and its peoples.
This session aims at sharing with policymakers their determination to create the enabling environment and make available resources needed to ensure successful implementation of the strategy.
Event objective and expected outcomes:
• To mobilize political commitment for the implementation of the AMCOW Strategy 2018-2030 and move Africa towards achieving its commitments as stated in the Africa Water Vision 2025, Africa Agenda 2063, SDGs and the AfDB High 5.
Proposed Programme:
Chairperson: HE Prof Makame Mbarawa (MP), AMCOW President, Minister of Water and Irrigation, Tanzania
Moderator: Dr. Ibrahim Assane Mayaki Chief Executive Officer (CEO), NEPAD
11:00: Remarks by Ms Gladys Gichuri Wambui, Director Water and Sanitation, AfDB
11.10: Remarks by HE Correa Leonel Josefa Sacko, AU Commissioner for Rural Economy and Agriculture
11.20: Overview of AMCOW Strategy 2018-2030, Dr Canisius Kanangire, AMCOW Executive Secretary
11:30: Speech of HE Eng Isack Kamwelwe, AMCOW President and Minister of Water and Irrigation, Tanzania and pre-launch of AMCOW Strategy 2018-2030
11:40: Panel Discussion
• Panellists,
HE Isack Kamwelwe, AMCOW President / Minister for Water & Irrigation, Tanzania
HE Eng. Seleshi Bekele, Minister for Water and Energy, Ethiopia
HE Eng Suleiman Adamu, Minister of Water, Nigeria
HE Pamela Tshwete, Deputy Minister of Water and Sanitation, South Africa.
HE Gugile Nkwinti, Minister of Water and Sanitation, South Africa
HE Sharafat Elyedri Afailal, Secretaire d'Etat chargee de l'Eau, Royaume du Maroc
HE Serge Blaise ZONIABA, Minister of Water, Republic of Congo
HE Lloyd Kaziya Mulenga, Minister of Water, Zambia
HE Mr. Kimetso Mathaba, Minister of Water Affairs, Lesotho
HE Joseph Kofi Adda Minister of Water Resources and Sanitation, Ghana
HE Ahmadou Mansour FAYE, Minister for Hydraulic and Sanitation, Senegal
HE Dr. Mohamed Abdel Atty, AMCOW Vice President, Northern Africa/Minister for Water and Irrigation Egypt
HE Guy-Bertrand Mapangou, Minister of Water Gabon
HE Dr Vincent Biruta, Minister of Natural Resources, Rwanda
Any other minister present
12:25: Closing remarks by AMCOW President