ARCOWA / Aither Pty Ltd / Australian Water Partnership
WaterGuide: a new framework for managing water scarcity
Monday 27 August | 14.00-15.30 | Room: FH Cabaret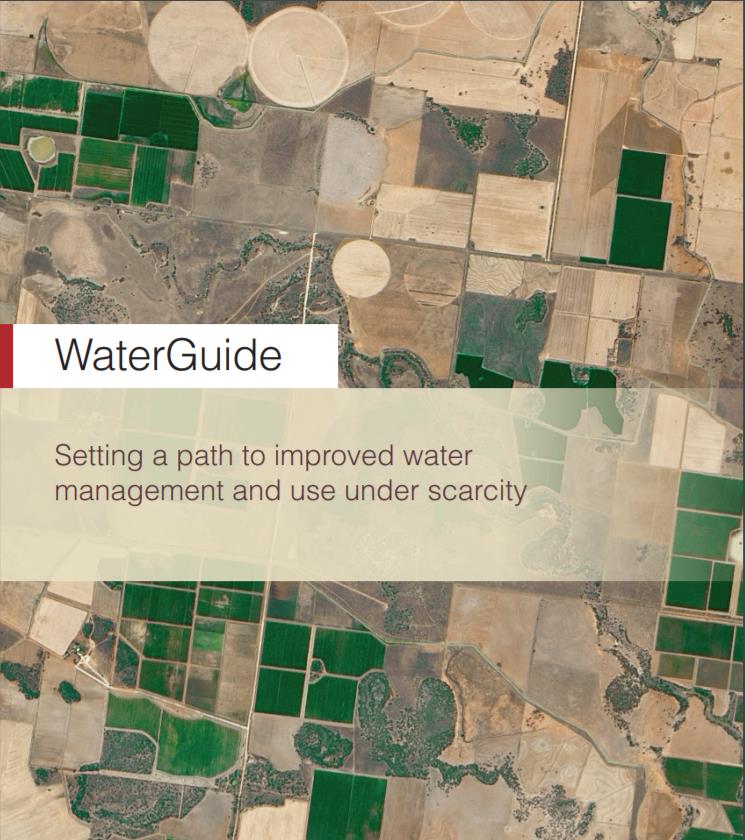 WaterGuide is a six element organising framework for improved water management and use in response to scarcity. It provides multiple entry points for decision makers seeking to adapt proven water governance and management arrangements to their own country or sub-national context, and it facilitates local implementation of small-scale interventions. Policy instruments associated with individual WaterGuide elements can help to close gaps in existing water management arrangements in the chosen country, region or basin. Where successful, such solutions will help to demonstrate the benefits of improved water management and use to multiple stakeholders.
Since its release in March 2017, WaterGuide has been used in the design and initiation of bilateral water policy dialogues between Australia Jordan, Mexico, Senegal and Iran.
Aither, the author organisation of WaterGuide, will explain the framework and how it can be used. ARCOWA, a partner in the WaterGuide applications, will facilitate a panel discussion involving representatives from countries that have participated to date, who will share their own experiences in applying the framework. In addition, representatives of the international water policy and management community will discuss what is needed to effectively respond to the water scarcity challenge, and the role of WaterGuide in this context.
Programme
14.00 – 14.05 Welcome (Ger Bergkamp, ARCOWA)
14.05 – 14.20 Introduction to WaterGuide (Will Fargher, Aither)
14.20 – 14.55 Panel 1: Country-level reflections on the water scarcity challenge (moderated by Ger Bergkamp, ARCOWA)
14.55 – 15.25 Panel 2: International perspectives on the water scarcity challenge (moderated by Will Fargher, Aither)
15.25 – 15.30 Conclusions and next steps (Will Fargher, Aither)

Conclusion
Some of the key points of discussion during the panel discussions or questions and answers following the panels included:
• The increasing conflict between different types of users or water in Jordan, and the need to find solutions to allocate water more effectively and efficiently, as well as improving services.
• The need to bring together a range of stakeholders in a multi-actor program in Mexico, and the benefits that such an organising framework can provide in this context.
• That scarcity has physical versus economic dimensions, and it's an issue often related to failure of policy or of governance.
• The need to build trust with and engage with users as part of collaborative processes designed to build support for and smooth the implementation of reforms.
• How WaterGuide can help to address specific conflicts between different users, such as agricultural and urban users.
• The benefits of WaterGuide in facilitating or starting a conversation about how to improve arrangements, regardless of where different countries may be at or the challenges they face.
• The fact that scarcity is a partly failure of policy, and that therefore, policy frameworks like WaterGuide can and should play a key role in addressing it.
• The need to use frameworks like WaterGuide to lift the conversation about scarcity to a financial level, given the significant social and economic dimensions and impacts of scarcity.
• The fact that scarcity is already acute and 'has arrived' in many locations. In instances it is already (or will be) severe and include significant consequences such as mass migration and conflict. There is a need to accelerate action including through shared expertise in order to get ahead of the crisis.
• That the value of stable information and knowledge can't be underestimated, and that ultimately governments need to make choices (e.g. to cap resource consumption).
• The role of WaterGuide in comparison to other frameworks or tools such integrated water management or water sensitive cities was discussed.
• The development of WaterGuide as a practical guide, reflecting Australia's experience as well as in-country application with governments by water policy practitioners, was endorsed.

Key outcomes achieved by the Showcase include:
• Improved understanding and literacy in relation to WaterGuide
• Increased exposure to new and existing audiences and prospective users
• Demonstrated the value of the concept, provided first hand by those who have used it
• Establishing or reinforcing the support of key potential partners and collaborators
• Identification of further opportunities to improve WaterGuide