Sanitation and Water for All
Making best use of WASH Finance– a conversation with IFIs
Monday 27 August | 14.00-15.30 | Room: FH Little Theatre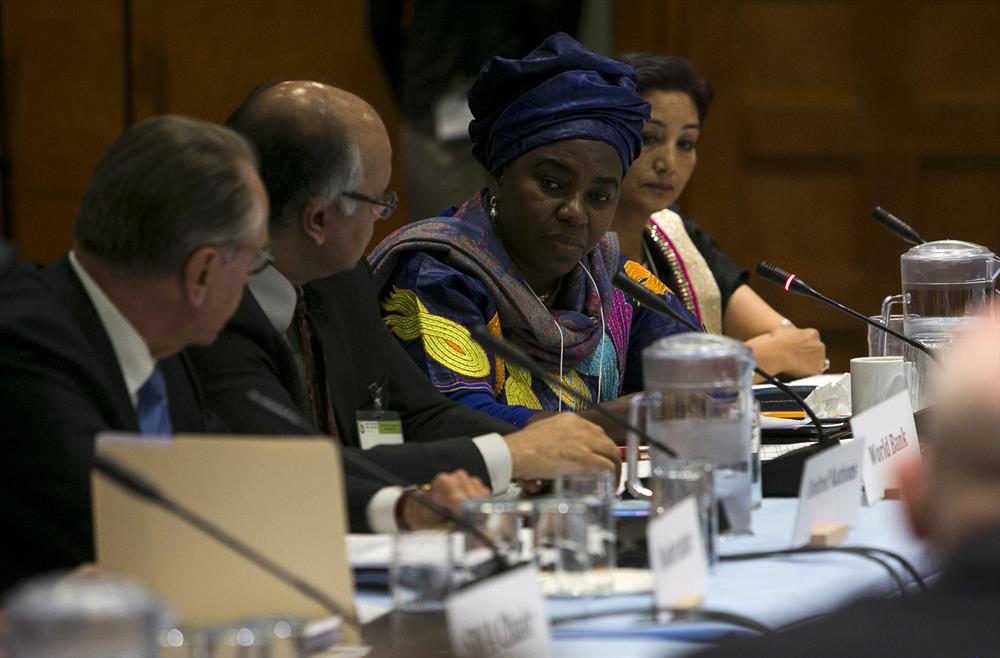 The water, sanitation and hygiene sector faces an enormous financing gap, and investment to date has been poorly targeted and absorbed. In order to leave no one behind, many countries face an urgent need to identify new sustainable sources of finance, and also to make the best use of the funds they already have. In both lower and upper middle income countries (MICs), international finance institutions (IFIs), such as development banks, are important providers of finance; in MICs, home to 70 percent of the world's poor people, they play an increasingly important role as these countries transition away from dependence on donor grants. Because of the significant development benefits that WASH brings, it is a stated priority of many IFIs. However, there is often inadequate harmonization of approaches between donors, IFIs and other development partners, which means that opportunities for governments to make the best of the existing resources, to mix sources of funding and leverage finance are missed. To optimize the resources available, all actors must work together, and this session will discuss how multi-stakeholder alignment and SWA's high-level political dialogue can help drive and shape the financing conversation for the the WASH sector.
Gold standard events are committed to ensure the gender balance in speakers/panellists and young professional representation in the session.
Programme
14:00 Welcome by Hon. Kevin Rudd, Chair, SWA
14:05 Setting the Scene: The role of international finance institutions in accelerating progress on the SDGs, including increasing financial flows and allowing more effective finance – how can a global partnership help optimize and harmonize? Ms Catarina de Albuquerque, Chief Executive Officer, SWA
14:20 – 15:00 Panel discusson moderated by Hon. Kevin Rudd, Chair, SWA
Panelists:
Mr. Juan Alfredo Tarazona Minaya, Deputy Minister of Construction and Sanitation, Ministry of Housing, Government of the Republic of Peru
Ms Wambui Gichuri, Director, Water Development and Sanitation, African Development Bank
Mr Sergio Campos, Chief, Water and Sanitation Division, Inter-American Development Bank
Ms Maria Angelica Sotomayor, Practice Manager, Africa, Water Global Practice, World Bank
Ms Martine Vullierme, Senior Vice President, Africa and Middle East, Veolia
Ms Sareen Malik, Coordinator, African Civil Society Network on Water and Sanitation (ANEW)

Mr Navindu Katugampola, Executive Director, Head of Green & Sustainability Bond Origination, Morgan Stanley
15:00 Question and Answers, Discussion with audience, moderated by Hon. Kevin Rudd, Chair, SWA
15:25 Closing Remarks – Ms Catarina de Albuquerque, CEO, SWA
Conclusion
The panel discussion in this session brought attention to the need for collaboration between the various financing agencies in the sector. The government of Peru offered a successful example of a programming that has successfully brought financing agencies together under government leadership. The three development banks spoke of their interest in working together, and with other partners, in order to blend finance and leverage investments. All participants agreed that there was a lack of investment-ready projects, and there is a need to carry out upstream work and shorten the time to get projects ready. There is an increasing role for the private sector as a source of business models, innovation, skills and finance. Private finance now includes many promising instruments that are of relevance to the WASH sector, such as green bonds and development impact bonds. However, the WASH sector still suffers from weak governance, corruption, and a failure to cover costs, making discussions of tariffs important to ensure sustainability. There are still many, particularly the poor, who still lack access to essential services, and everyone has a role to play; participants expressed interest in a global framework to bring funds into the sector. The public sector, private sector, providers of philanthropic funds and civil society need to work together, with a particular role for civil society.
The Sanitation and Water for All partnership is a key platform for dialogue, coordination, learning and mutual accountability.
Recommendations:
1. Financing agencies, including development banks, bilateral donors and private financiers, to seek ways to work together to coordinate and harmonize investments, and to leverage contributions.
2. All stakeholders to work towards greater transparency, and to assist government partners in establishing good governance.