The Nature Conservancy / African Water Association / International Fund for Agricultural Development / Nairobi City Water and Sewerage Company
Water Funds Toolbox: water security solutions for Africa and globally
Thursday 30 August | 16.00-17.30 | Room: NL 353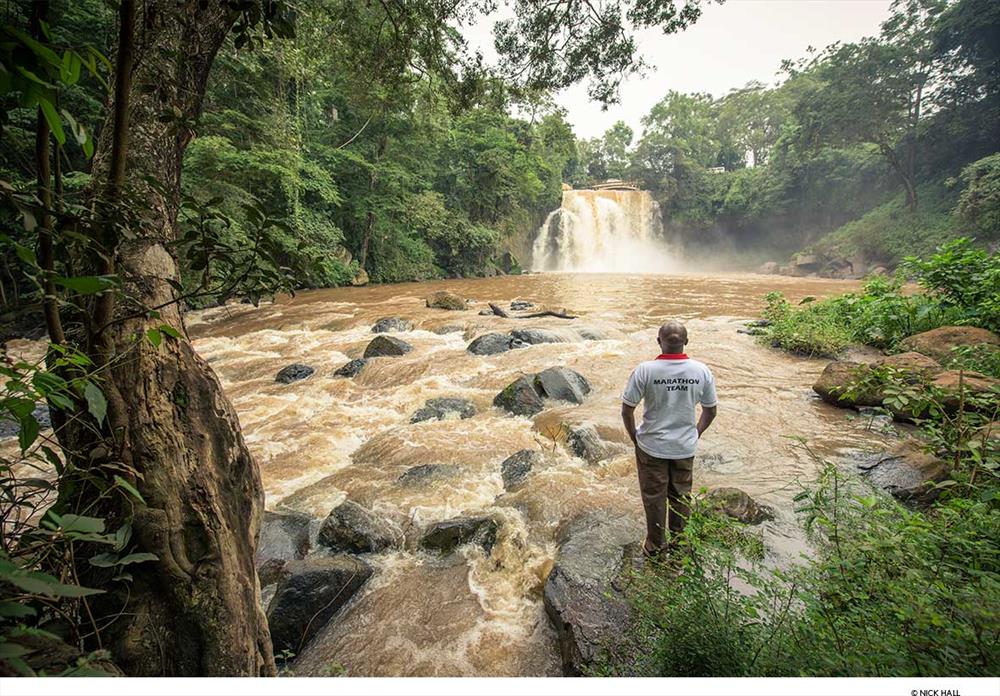 A diverse set of actors are working towards improving water security across Africa through enhanced collaboration and the implementation of nature-based solutions. The overarching objective of this showcase is to convene leading actors to collectively and substantively demonstrate how participants can take leadership in protecting their local water sources by applying new innovative tools and enhancing collaboration.
Participants will be provided with the opportunity to interact with and learn about a new capacity building program for protecting water at its source. This will include the demonstration of new tools – a state-of-the-art Toolbox, Training, and Network – built around the globally-relevant, consensus-based best practices approach for developing water funds (WF). The WF model offers a tested approach for investing in watershed services where collaboration is needed. Recent experiences in applying these tools will be highlighted, such as in Kenya, where over 50 water professionals assessed water security issues and partnership-based solutions for 10 African geographies through this program.
Current demand for these tools in Africa will be demonstrated through the presentation of results from a recent AfWA-led utility survey. Upcoming opportunities to take action will be highlighted, including new tools, the 2018 Africa WF Training, and the 2019 Global WF Summit.
Programme
16:00 – 16:15 INTRODUCTION
Water Funds: A Governance Solution to Local Water Challenges
Join us for an overview of a global vision for Water Funds.
Andrea Erickson-Quiroz • Managing Director of Water Security, The Nature Conservancy
16:15 – 16:45 PANEL 1
Water Funds Toolbox: A Global Replication Strategy
Panel 1 will begin with a brief showcase of state of the art, open-source tools for developing Water Funds. The Water Fund model is rapidly gaining traction with local, regional, and global actors, as it represents a novel, tested approach for addressing water security issues, especially where resiliency to climate change impacts and collective action is needed to address those issues. Demand for support for exploring and applying the model has now exceeded TNC's capacity and footprint. In response, TNC and its partners have standardized their 15+ years' experience developing Water Funds into a step-by-step, best practices guide. This guidance has now been centralized into globally relevant, expert authored, multi-media capacity building tools: the Water Funds Toolbox (waterfundstoolbox.org) and the Water Funds Training (nature.org/waterfundstraining). Cory Zyla from The Nature Conservancy will briefly outline the organization's vision for how these tools and the growing, global network of Water Funds practitioners will equip local leaders with the knowledge, support, and inspiration required to succeed in developing Water Funds around the world.
Panelists will help to ground this vision in reality by sharing an example of how this framework was recently applied and/or help to improve or refine it by recommending 1-2 areas of focus for future applications.
Panelists
Mariano Montero • Director, FEMSA Foundation
Eng. Philip Gichuki • Chairman, Nairobi Water Fund Board of Trustees
Louise Stafford • South Africa Water Funds Director, The Nature Conservancy
16:45 – 17:30 PANEL 2
Africa Water Funds and the Partnership & Network Scaling Model
To lead off Panel 2, Fred Kihara from The Nature Conservancy will outline a vision through a short presentation of how thoughtfully designed source water protection efforts can scale across the African continent. This vision includes, but is not limited to, the Water Fund model discussed in Panel 1, which focuses on source water protection when the primary downstream user is a urban area. TNC proposes an Africa Source Water Protection (SWP) Partnership to draw global focus, funding, and innovation to the protection of source water areas using proven natural infrastructure interventions coupled with strong governance and sustainable finance elements. The SWP Partnership would ideally be made up of water utilities, key government agencies, international finance organizations, corporate water users, and NGOs. In addition to helping to organize this Partnership, TNC's primary contribution will be to help catalyze source water protection for 10 to 15 cities across Africa in the next five years. This would be done through training, networking and direct financial support for stakeholders interested in employing the Water Fund model for their source water challenges. The goal is for this support, in addition to the TNC-led Water Funds for Nairobi and Cape Town, to catalyze and continent-wide movement towards source water protection investment leading to 100+ cities with source water protection mechanisms in place by 2030. TNC will also work with partners to apply source water protection to basins with hydropower, irrigation, and tourism downstream users using a variety of natural infrastructure investment models.
The panel will react to this vision providing suggestions on how it might be improved or refined, and how their organization- and organizations in their sector- might contribute to its success.
Panelists
Andre Geldenhuys • Director: Investment Banking, NedBank
Audrey Nepveu • Technical Specialist, Water and Rural Infrastructure, International Fund for Africa Development
Dr. Simeon Kenfack • Director of Programs, African Water Association