Water for a Sustainable World: main findings of the WWDR2015
Sunday 23 August | 11.00-12.30 | Room: NL 357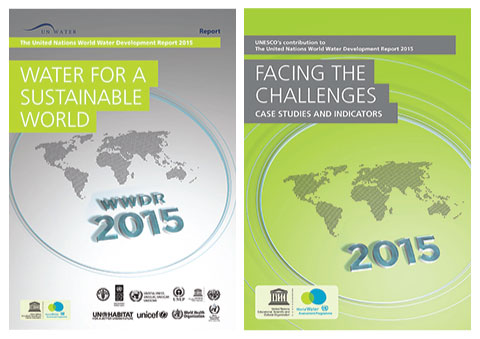 The United Nations World Water Assessment Programme will present the main findings and messages of the World Water Development Report 2015 (WWDR 2015), Water for a Sustainable World.
Water for Development is the main theme of the World Water Week 2015 and this Report, the flagship publication of UN-Water, provides a focused descriptive analysis that demonstrates how water is a key factor in a future sustainable world. Taking into account economic growth, social equity and environmental sustainability, a forward-looking narrative describes how major challenges and change factors in the modern world will affect – and can be affected by – water resources, services and related benefits in a not too distant future.
The audience will interact with the panelists on the vision of a sustainable world where water is managed in support of human well-being and ecosystems.
The main objective of the session is to inform general public, policy- and decision-makers, about the role and importance of water in a future, sustainable, world. The session will address both thematic challenge areas and regional highlights.
Programme
Water for a Sustainable World: Messages from the United Nations World Water Development Report 2015
VENUE &TIME: Room NL357, 11:00-12:30
11:00 Welcome and Opening Remarks
• Michel Jarraud, UN-Water Chair (video message)
• Blanca Jiménez-Cisneros, Secretary of the International Hydrological Programme (IHP) and the Director of Division of Water Sciences, UNESCO
11:10 Setting the stage
• Michela Miletto, WWAP Coordinator, a.i.
A presentation on the findings of the United Nations World Water Development Report 2015
11:35 Perspectives
• Food and agriculture (FAO)
• Industry and Energy (UNIDO)
• Water, sanitation and hygiene (WHO)
• Adapting to climate variability and change (UNESCO-IHP)
• A snapshot from the regions: The case of Western Asia (UN-ESCWA)
• The Framework for Implementing Future We Want (SIWI)
12:15 Questions and Comments from the floor
12:25 Guest Speaker
• Syed Muhammad Ashiq Hussain Shah, Member of the National Parliament of Pakistan and Parliamentary Task Force on MDGs and SDGs.
Considerations on the MDGs and the ongoing process for the post-2015 development agenda in the national context.
Wrap-up
• Engin Koncagul, WWAP Senior Programme Officer, UNESCO