Aguaconsult / Directorate-General for International Cooperation, The Netherlands / German Toilet Organization / Viva con Agua / Welthungerhilfe
WASHoholic Anonymous - Confessions of Failure and how to Reform
Monday 29 August | 14.00-15.30 | Room: FH Little Theatre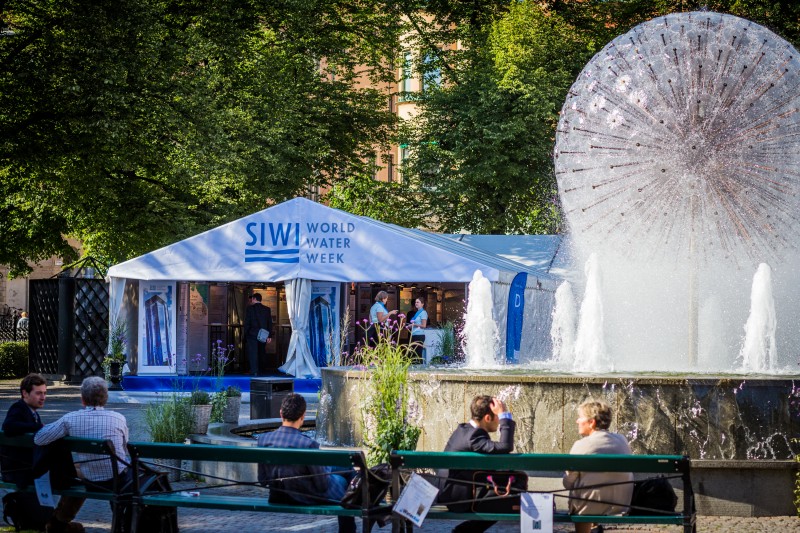 "$30 brings clean water a person" - The promise made by marketing departments of WASH implementers and accepted by donors and governments. The truth is this may provide first time access to people but not sustainable services. The theoretical foundation for sustainability is established in the WASH Sustainability Charter but translating broad policy discussions into practice is proving difficult.
This seminar builds on the Agenda for Change initiative, the WASH Sustainability Forum and a workshop on Post Implementation Monitoring (PIM) where practitioners, funders and government debated obstacles to general uptake and scaling up of corrective actions to improve sector sustainability..
State and non-state WASH actors have project monitoring systems and tools that capture project implementation data to report against budgetary investments, fund raising and marketing. Fewer actors collect and share information on investments after the project ends. The concerns of WASH practitioners include: monitoring for sustainability is not budgeted; fear of reporting failure of services; and,, ambiguity about responsibility for corrective action.
Monitoring, reporting and greater transparency about failures and success after the project and support to governments to use this information will help keep our promise of universal access to WASH services by 2030.
Programme
14:00 Welcome and Setting the Scene
Thilo Panzerbieter, German Toilet Organization
Setting the Scene: The Sustainability Crisis in the WASH Sector, Harold Lockwood, Aguaconsult
Confessions of Failure
14:05 Implementing partner confessional: The sustainability challenge from a practitioner and donor perspective
Stephan Simon, Welthungerhilfe and Christian Wiebe, Viva Con Agua
14:15 Local government confessional: Are local governments fulfilling their role to ensure sustainable service delivery?
Aggrey Nayuhamya, Chairman of Kamwenge District in Western Uganda
14:20 Research and learning confessional: The "Agenda for Change" - a good step into the right direction?
Dr. Patrick Moriarty, IRC
14:25 Donor confessional: The "Sustainability Clause" - what it can do and what it cannot
Dick van Ginhoven, DGIS
14:30 Question and Answers
Round Table Discussion
14: 40 Round table discussion on the following themes:
Guiding Questions:
What change in programming would increase long-term sustainability of services? What incentives are needed?
Reporting Back and Closure
15:15 Reporting back from tables
Conclusion
Results from the table discussions
Program design and management
Reflect full life cycle costs in the programming approach
Programming has to look beyond the program duration and needs to reflect what is in 5-10 years
Change in project timelines to go beyond few years, incl. joint follow up and monitoring
Community driven and needs based project designs
Focus on local materials, simple and locally appropriate concepts and technologies
O&M manuals, adapted to local framework conditions
Involve all stakeholders in demand creation
Require evidence that stakeholder network (expected to sustain services) has been developed
Driving license for WASH (quality management)
Monitoring
Switch from outputs to outcome (more evidence on outcome and impact level needed)
More local ownership of monitoring systems at district and national level (rather than focusing on own NGOs monitoring strengthening of national monitoring system)
Formative research to inform programming, programs should remain flexible to incorporate results and adapt accordingly
Go beyond traditional monitoring
Financing
Financial warranty withholding for NGO partners (paid after several years when systems are still working)
Non-earmarked funding by donors required
Balance the need for subsidies with capacity to contribute own resources
Flexible donor funding (changing targets)
Ringfence revenues
Give incentive to local financial market to invest in WASH as the financing of the sector should be more domestic (local currency lending)
Capital market in countries often willing to invest in water sector if it is credit-worthy (with guarantees by donors)
Policy
Political process at country level has first priority
Support of government systems and make them more accountable as duty bearer
Support ownership within local government
Donors need to address own and partners failures
Strengthen links between NGOs, donors and Governments
Need to advocate donors to push for national system strengthening
Community and government involvement – needs to be improved
Work with politicians to create long term incentives, which go beyond their term of duty
Work with monetary and non-monetary incentives (pride, honor) that keeps people moving
Promotion of initiatives like Agenda for Change, Sector-wide strategy will be helpful (coordination systems, joint framework, indicators
National Authorities/Governments as owner of investments
Avoid bypassing of governments as duty bearers
Others
Put more focus on the change process (not so much on technologies and specific problems)
Often we are doing things to fast, it needs time for planning and to reflect in a learning process
Bring in the private sector
Focus of NGOs being driven by donor demands. Need to change their mindset
Include self-supply in rural areas (ownership of beneficiaries and we should be open that people know best what they do)
Profit: Market-based opportunities and solutions