Climate and Development Knowledge Network / Climate Resilient Infrastructure Development Facility
CDKN and CRIDF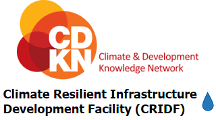 The Climate and Development Knowledge Network (CDKN) supports decision-makers in designing and delivering climate compatible development. We do this by combining research, advisory services and knowledge management in support of locally owned and managed policy processes. We work in partnership with decision-makers in the public, private and non-governmental sectors nationally, regionally and globally. We hold strongly to the ideals of human development and environmental sustainability.
The Climate Resilient Infrastructure Development Facility (CRIDF) targets infrastructure development in transboundary water basins. By doing so, CRIDF is facilitating enhanced cooperation between stakeholders in shared river basins and is strengthening the evidence base for demonstrating the national benefits of cooperation on shared waters. In this way, CRIDF aims to contribute to peaceful, climate resilient and sustainable planning and management of southern Africa's shared waters, and generate current and future benefits for the region's poorest.
Programme
Join us on Tuesday 30 August from 16:00 - 17.30 in room FH 202 to discuss mainstreaming climate resilience into water infrastructure.