Water Integrity Network (WIN)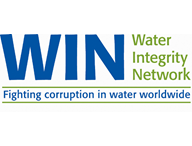 The Water Integrity Network (WIN) promotes integrity to eliminate corruption and increase performance in the water sector worldwide. To achieve this mission, WIN connects, enables, and promotes the work of organizations and individuals who recognize the impact of corruption—especially on poor and disenfranchised communities—work to assess risk, and promote practical responses. Formerly hosted by Transparency International, the WIN global network is formally led by the WIN association and supported by the WIN Secretariat in Berlin.
Meet the Water Integrity Network on booth 12 to discover our latest Water Integrity Global Outlook 2016 (WIGO) or join the discussion at our several events on social accountability, integrity processes and good water governance. Follow WIN at SWWW on social media by following us on Facebook and Twitter or by following the hashtag #WWWeek.
Programme
WIN Events
Secure Water, Empowered Citizens: The Essential Role of Social Accountability
Convenors: Global Partnership for Social Accountability; Kenya Water and Sanitation CSOs Network; U4 Anti-Corruption Resource Centre; Water Integrity Network; Water Witness International and WaterAid
Monday 29th of August from 14:00 – 15:30

How to Engage Local Water Organisations in an Integrity Process?
Convenors: Cewas, Swiss Agency for Development and Cooperation, Swiss Water Partnership and Water Integrity Network
Monday 29th of August 2016 from 16:00 to 17:30

Good Governance for Inclusive Growth and Poverty Reduction
Convenors: International Water Management Institute; Organisation for Economic Cooperation and Development; Stockholm International Water Institute; UNDP-SIWI Water Governance Facility and Water Research Commission
Wednesday 31st of August 2016 from 14:00 to 15:30
WIN at SIWISofa
SIWISofa: Applying Water Integrity Tools in Utilities: a Bangladesh Experience
Convenors: Water Integrity Network
Monday 29 August 2016 from 10:00 – 10:30