Caritas Switzerland / Cewas / Eawag / Global Institute for Water, Environment and Health / Nestlé
Swiss Water Partnership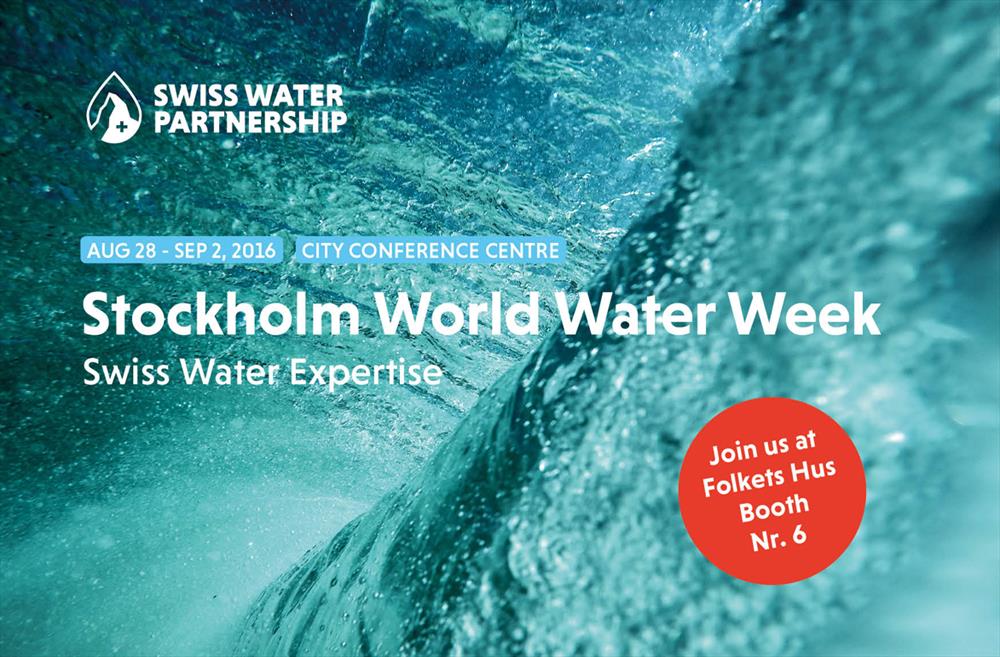 The Swiss Water Partnership (SWP) and its members are involved in innovative and thrilling seminars. On the SWP booth, you have the chance to meet the Swiss water sector actors and to assist to launches of publications, discussions and presentations. Do not hesitate to come by to see us on the booth or at one of our seminars!
Please find here the entire programme of the Swiss Water Partnership and its members at the booth and in seminars.


Programme
Please find hereafter the programme of the activites on the booth of the Swiss Water Partnership. Do not hesistate to pass by the booth even if there is no event to learn more about the Swiss Water Partnership and its members. A detailed programme of all the activites (on the booth and thematic events) of the Swiss Water Partnership can be found under "description".
Sunday
WaterLex : Sustainable solutions based on human rights to improve water governance worldwide. WaterLex Director General Amanda Loeffen and team share our work (13:30 - 16:30).
Monday
HELVETAS Swiss Intercooperation: Working in alliances for improved learning and collective impact? Join us for an interactive discussion with representatives from different alliances in the WASH sector (12:30 - 16:30).
Tuesday
Swiss Water and Sanitation Consortium: Share, learn, scale-up – how working as a Consortium makes a difference (10:30 - 13:00)
Cewas: Gain insight into cewas' diverse project portfolio on supporting start-ups,tackling challenges on WASH and integrity on an international scale (13:30 - 16:30)
SDC and International Secretariat for Water: Boosting the local-global interaction for sustainable water policies development (17:30 - 19:00)
Wednesday
Caritas Switzerland: Addressing governance and management challenges in small water supply systems in Kenya – The Integrity Management Toolbox (10:30 - 13:00)
Eawag: Discover a practical guide on systematic behavior change (RANAS approach) and the Groundwater Assessment Platform (GAP) allowing to estimate the risk of geogenic contamination (13:30 - 16:30).
Eawag & Cewas: Exclusively at the World Water Week 2016, take a first look at the Arabic Version of the Compendium of Sanitation Systems and Technologies.
Thursday
WWF: Do you know your water risk? We do! Launch with us the report "The Imported Risk, Switzerland's Water Risk in Times of Globalisation"