GSM Association / Loowatt / Sanergy / Wonderkid / SOIL
Water and Sanitation: Innovative Mobile Solutions to Improve Service Delivery
Tuesday 29 August | 16.00-17.30 | Room: FH 307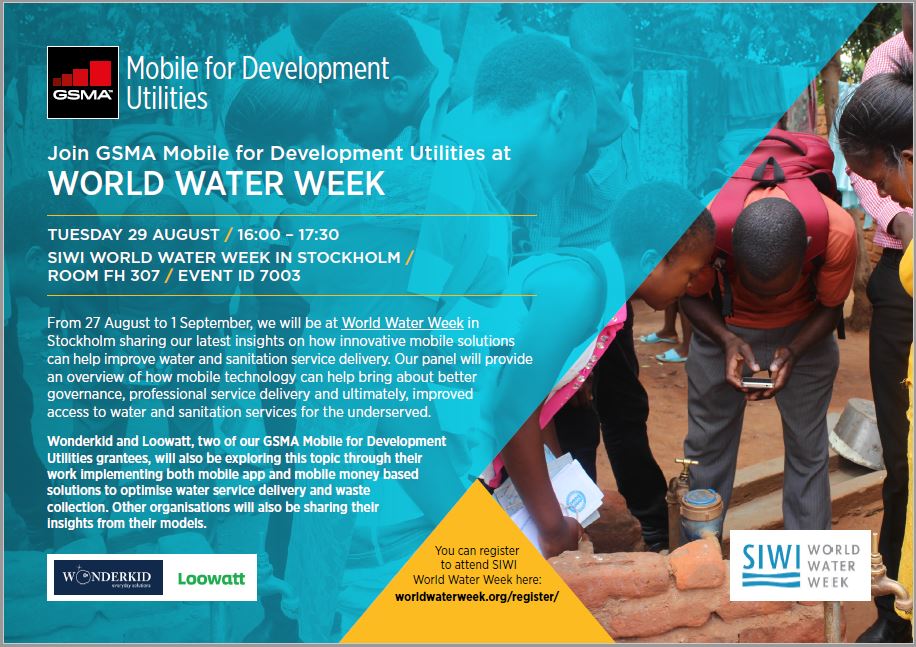 Mobile and Information and Communication Technologies are fundamentally changing how sustainable water and sanitation are delivered and managed. Mobile solutions such as mobile apps, mobile payments and machine-to-machine communication are becoming essential tools for utilities and decentralized service providers looking to optimize their processes and run more efficiently.
In this session, GSMA M4D Utilities Innovation Fund grantees will share their experience leveraging mobile technology in partnership with utility providers or for decentralized services:
Wonderkid, a technology service provider, will present insights on their work with Kenyan water utility companies which resulted in improved revenue collection.
Sanergy, a sanitation service provider, will highlight their experience leveraging mobile technology across the sanitation value chain.
Loowatt, a sanitation service provider, will share their journey in the implementation of mobile technology.
SOIL, another sanitation service provider will then join the speakers for a panel discussion on what is required to facilitate the use of mobile technology in the sector and how else can mobile technology accelerate progress towards accomplishing SDG 6.
Programme
16:00 Welcome
Salima Fazal Karim, GSMA
16:05 Case Study 1: Using mobile technology to optimise water utility companies
Daniel Kamiri, Wonderkid
16:15 Case Study 2: Mobile and the sanitation value chain
Lindsay Stradley, Sanergy
16:25 The mobile-enabled service provider journey
Mary Roach, Loowatt
16:35 Presentation Q&A

16:50 Panel Discussion: Mobile and SDG 6
Erica Lloyd, SOIL
Mary Roach, Loowatt
Lindsay Stradley, Sanergy

Daniel Kamiri, Wonderkid


17:10 Panel Q&A

17:25 Summary
Salima Fazal Karim, GSMA
17:30 Close of session