Global Water Partnership / Stockholm International Water Institute / Swedish Institute Alexandria / The Church of Sweden / The World Council of Churches
Water and Faith: Building partnerships to achieve the SDGs
Wednesday 30 August | 09.00-10.30 | Room: FH Cabaret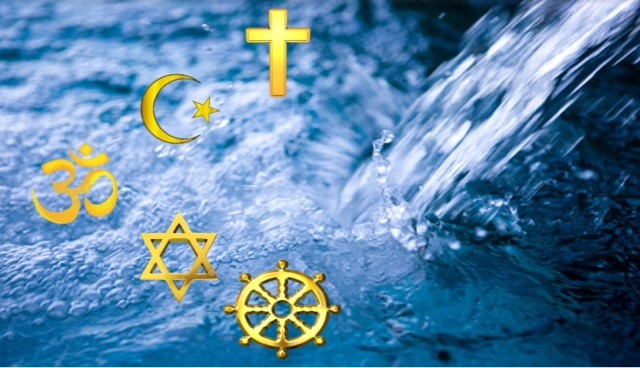 To achieve the SDGs in just 15 years requires engagement and partnerships across all of our global communities. Faith Based Organizations (FBOs) have long played an important role in community development and many are engaged to promote sustainable water development at local, national, and global levels. FBOs often hold a foundational role in guiding community values, beliefs and behaviors. Their vast and structured networks are important means of channeling key messages on sustainable water management, access to drinking water, sanitation and hygiene. Moreover, in areas of the world with the highest levels of water stress, religion often plays a definitive role in the daily lives of community members. The Water Community and FBOs have a lot to gain from a closer cooperation and exchange of knowledge and experiences. The 'Water and Faiths' session organized during the 2016 World Water Week demonstrated the potential synergies for such a collaboration. This showcase will present a series of concrete water projects led by FBOs which operate in diverse geographical and social contexts. The interactive showcase format will serve to not only share knowledge and lessons learned but also to advance cooperation and dialogue between FBOs and the water community at large.
Programme
09:00
Introduction: 'Water and Faiths: Faith-based Organizations contributing to the Water SDGs
Elizabeth Yaari, SIWI, Dinesh Suna, WCC, and Francois Brikké, GWP
09:15
Ignite Speech: Reverend Adam Russell Taylor, Lead for the Faith-Based Initiative, The World Bank Group

09:25
Introduction to Invited Case Studies: Approaches to Bridging Water and Faith
Facilitator: Peter Weiderud, Director, SwedAlex
United Religions Initiative: Kiran Bali JP, Global Interfaith Group Leader
World Council of Churches: Dinesh Suna, Coordinator, Ecumenical Water Network
Church of Sweden: Reverend Henrik Grape, Moderator, Climate Change Working Group
Anglican Development Services of Mount Kenya: Catherine Mwangi, Executive Director, ADSMKE
EcoPeace Middle East, Munqeth Mehyar, Jordanian Co-Director

09.55
Audience interaction in "Marketplace"
10:20
Audience Comments, Concluding remarks and vote of thanks:
Katarina Veem, SIWI
10:30
Close of session