Bill & Melinda Gates Foundation / Clean Team Ghana / Container Based Sanitation Alliance / Greenbaum Foundation / Loowatt / Sanergy / Sanivation / SOIL / Stone Family Foundation / Toilet Board Coalition / University of Leeds / University of Oregon / World Health Organization / x-runner
Container Based Sanitation and the Sanitation Economy
Tuesday 28 August | 14.00-15.30 | Room: FH Little Theatre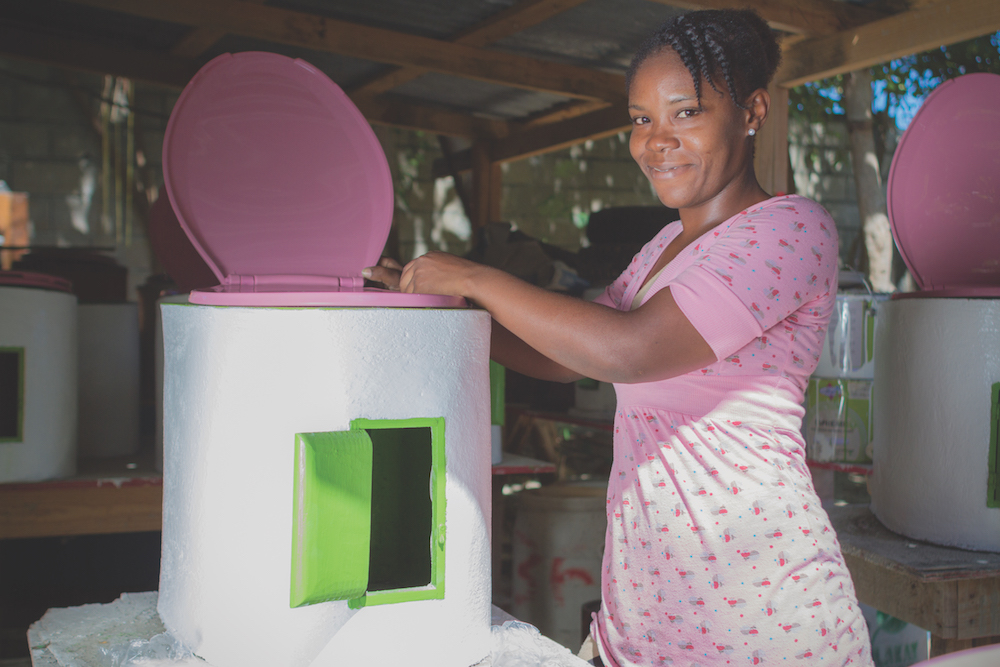 Toilets around the world contain untapped assets in the form of valuable end-products, including compost and electricity. By improving the toilets and associated services, treating and transforming the toilet resources, we can achieve huge societal and economic gains for ecosystem management, energy generation, food production, and health systems globally. One model within this Sanitation Economy is container-based sanitation (CBS); it is an emerging approach for low-income urban communities which does not rely upon waterborne sewerage, reduces health risks compared to pit latrines, and is logistically more feasible than other faecal-sludge management methods. This end-to-end service collects waste hygienically from waterless toilets built around sealable, removable containers, and transports the waste for safe disposal or treatment. This session will demonstrate that CBS is a viable, low-cost alternative for cities to safely manage sanitation in difficult to reach, highly vulnerable communities. Six CBS enterprises (from Kenya, Ghana, Haiti, Peru and Madagascar) will join government, academic, private sector and sanitation sector stakeholders to introduce different perspectives on the unique and game-changing value of the CBS model. After a brief plenary, different stakeholders will share their perspectives and pose questions for audience discussion (30 minutes), before structured, interactive feedback.
Gold standard events are committed to ensure the gender balance in speakers/panellists and young professional representation in the session.
Programme
14:00-14:05 Co-Chair's Welcome and Session Objectives – Jon Lane (Vice-Chair, The Toilet Board Coalition) and Kate Medlicott (WHO and CBSA Advisory Committee)
14:05-14:15 Introduction to the Sanitation Economy – Cheryl Hicks, The Toilet Board Coalition
14:15-14:25 Container Based Sanitation solution and brief introduction to the Container Based Sanitation Alliance – Kory Russel, CBSA Chair
14:25-14:40 Perspectives on Sanitation Partnerships – Ten x 1-minute interventions from: Mary Roach (Loowatt), Thomas Van Waeyenberge (AquaFed), Lindsay Stradley (Sanergy), Celine Robert (AfD), Kate Medlicott (WHO), Sandy Rodger (Toilet Board Coalition), Dani Barrington (University of Leeds), Portia Persley (USAID), and Lisa Hawkes (UNILEVER).
14:40-15:10 Interactive Audience Discussion: What are the critical requirements for regenerative sanitation solutions (like CBS) to reach scale in today's economies? – with table-level facilitators
15:10-15:25 Discussion Results and Highlights – facilitated feedback
15:25-15:30 Closing words from the Chairs
Conclusion
The fully-attended session brought together multiple stakeholders to discuss ways to scale alternative sanitation solutions that systematically integrate the full value chain. After presentations from The Toilet Board Coalition and The Container Based Sanitation Alliance, the audience actively participated in 12 table-level discussions focused on the question:
What are the critical requirements for regenerative sanitation solutions (like CBS) to reach scale in today's economies?
Facilitators/knowledge specialists at each table led discussions on how partnering with multiple stakeholders could support scale. Recommendations included:
Partnering with operators – depends on how efficient, cost-effective and logistically feasible it is for CBS providers to integrate into existing systems managed by city operators. CBS providers must demonstrate their experience in delivering quality services that are hygienic along the entire sanitation chain. The CBSA is leading an initiative to develop best practice standards for CBS services and to link to certification methods.
Partnering with government – can be improved through developing specific frameworks for financing and procurement of alternative sanitation solutions that can be slotted into city-level service expansion plans. Government's role in service provision can be further supported – with a focus on training/capacity building of officials on approaches such as CBS that provide services in informal areas and to support any required revision of regulations. The CBSA is developing model agreements/contracts for use with government stakeholders and utilities.
Partnering with the health sector – everyone working in the sanitation economy should ensure their health and safety systems are robust. CBSA members undertook Sanitation Safety Planning training in 2017, with the support of WHO, to develop safety plans with government partners. Government engagement is key in these processes as public officials are ultimately responsible for achieving public health impact at scale. The TBC has been focusing on the potential for gathering and using digital health data (e.g. smart sanitation technologies); ultimately to develop early warning systems on disease outbreaks and to manage health better.
Sanitation financing – although full-chain approaches are trying to offset operational costs through waste/resource optimisation processes, external capital investment is required to ensure services reach the poorest. Several initiatives are assessing sanitation costs (e.g. CACTUS, University of Leeds) and exploring ways to develop new investment options (e.g. USAID's analysis). There is a need to promote interactions amongst investors to better share information on risks and to test criteria for new investment models.
Partnering with corporates – larger companies can support others with knowledge sharing, focused technical assistance, brand power and helping to create demand/marketing. Through commercial relationships with corporates whose core business is sanitation-related, smaller operators can demonstrate the quality of their services which in turn can lower the perception of risk for potential investors.
After a lively round of feedback from each table, the session ended with a call to action to support enterprises (like CBS providers) working in the sanitation economy as they are a viable, low-cost alternative for cities to safely manage sanitation in difficult to reach, highly vulnerable communities.