UN-Water / United Nations Department of Economic and Social Affairs / United Nations University-Institute for Water, Environment and Heath
Water Action Decade Event
Sunday 26 August | 16.00-17.30 | Room: FH Cabaret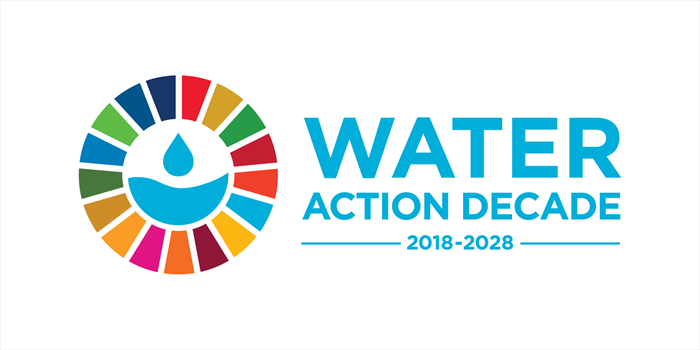 The International Decade for Action, 'Water for Sustainable Development', commenced on World Water Day, 22 March 2018, and aims to accelerate efforts towards meeting water-related challenges, including limited access to safe water and sanitation, increasing pressure on water resources and ecosystems, and an exacerbated risk of droughts and floods. This session will include presentations from UN-DESA, UNU and other members of the UN-Water Task Force on Decade Implementation, and bring participants up to speed on the current state of the Decade implementation and how to get involved. The event will provide an overview of existing projects and programmes in support of the Decade from Members States, the United Nations, civil society and private sector, and focus on how we can mobilize action to make sure that we meet all the water-related Goals.
Gold standard events are committed to ensure the gender balance in speakers/panellists and young professional representation in the session.
Programme
16:00 Setting the Stage
Dr. Vladimir Smakhtin, Director, United Nations University - Institute for Water, Environment and Health (UNU-INWEH)
16:10 The 4 Decade Work Streams
1. Facilitating access to knowledge and the exchange of good practices – Ms. Alice Aureli, Chief, Section on Groundwater Systems and Settlements, UNESCO
2. Improving knowledge generation and dissemination – Mr. Olcay Ünver, Deputy Director, Land and Water Division, FAO
3. Pursuing advocacy, networking and promoting partnerships and action – Ms. Carol Chouchani Cherfane Chief, Water Resources Section, UN Economic and Social Commission for Western Asia (UN ESCWA)
4. Strengthening communication actions for implementation of the water-related Goals – Ms. Faduma Ali, UN-Water
16:30 How are UN Members States collaborating within the Water Action Decade to accelerate progress towards the implementation of SDG6+?
Mr. Thomas Stratenwerth, Federal Ministry for Environment, Nature Conservation and Nuclear Safety, Federal Republic of Germany and Ms. Nchedi Maphokga-Moripe, Ministry of Water and Sanitation, Republic of South Africa
16:40 Questions and answers
16:50 Introduction to the Mentimeter - https://www.mentimeter.com/
16: 55 Roundtables - "What are you doing that fits into the Water Decade Action Plan?"
Roundtable Work Stream 1 – Mr. Richard Lee, WWF • Roundtable Work Stream
2 – Mr. Joshua Newton, Global Water Partnership • Roundtable Work Stream
3 – Ms. Lesley Pories, Water.org • Roundtable Work Stream
4 – Ms. Lesha Witmer, Women for Water Partnership
17:25 Wrap-up
Dr. Vladimir Smakhtin, Director, United Nations University - Institute for Water, Environment and Health (UNU-INWEH)