International Water Management Institute / Asia Pacific Water Forum / Asian Development Bank / International Water Centre
ASIA Focus- Natural Alternatives to Water Storage
Tuesday 28 August | 14.00-15.30 | Room: FH 202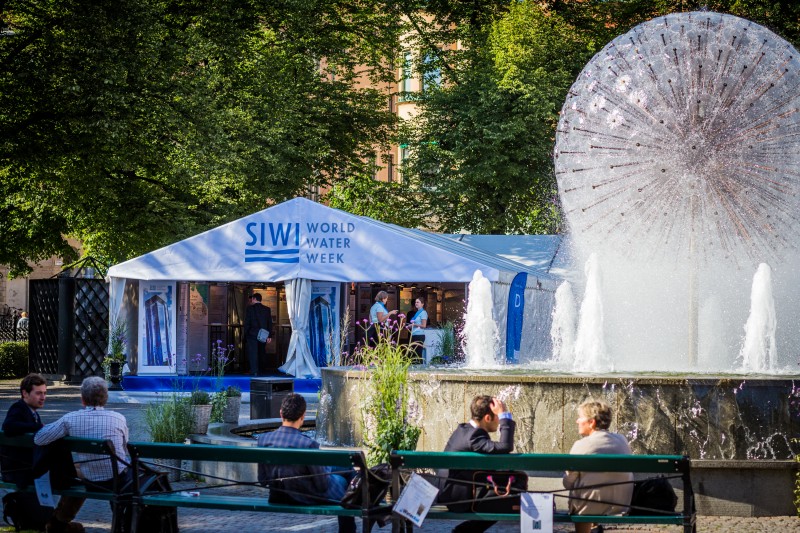 Large infrastructure projects are the norm in Asia with its growing economies and expectations of more goods and services from aspirational populations. The pressure on water resources is intense and political compulsions to demonstrate commitment to development invariably finds expression in large dams and water storage structures which in the densely populated areas of Asia often result in collateral damage to people, livelihoods and eco-systems.

Greater sensitivity to these issues has resulted in a number of innovative approaches to conserving and recharging groundwater, preserving wetlands including peatlands as natural stores of water that can be used to hedge against drought and climate variability. These innovations are not just technical but also include the use of science accessible to local communities, community management, network building, training and capacity building and influencing large government programs and policies. Case studies of these innovations will be presented from locations as varied as Nepal, India, Bangladesh, Afghanistan, Japan, China and Mongolia, covering different geographies, regions and agro climatic conditions. The session is intended to share experiences, good practices, and challenges in the use of natural water storage, as well as generate recommendations for enhancing sustainable utilization.
Programme
14:00 Overview – importance and objectives of the session

Matthew McCartney (IWMI)

14:05 Keynote - Resilience thinking the need for new perspectives
Nathanial Matthews – Program Director Global Resilience
14:15 Case Study#1* Underground Taming of Floods for Irrigation: managed aquifer recharge (India/Vietnam)
Paul Pavelic (IWMI)

14:25 Case Study#2 Peatland Management in Mongolia for Water Security and Livelihoods (Mongolia)
Dr. Damdin Davgadorj, Executive Director, Climate Change and Development Academy of Mongolia (Former Mongolia Special Envoy on Climate Change)

14:35 Case Study#3 Groundwater Management in Kumamoto City (Japan)
Yumiko Asayama (APWF / Japan Water Forum)
14:45 Case Study #4 Aquifer Storage and Recovery (ASR) in Australia

Brian S. McIntosh (International WaterCentre)
14:55 Audience reaction (clarifying questions to all presenters)
Moderator: Matthew McCartney


15:05 Moderated Discussion + Audience participation
Moderator: Thomas Penella

Panelists: Paul Pavelic, Damdin Davgadorj, Yumiko Asayama, Brian S. McIntosh
Focused on:
To what extent are innovations inclusive – do they provide opportunities for poor, women, youth etc.?
What are the opportunities/ constraints to scaling-up innovations?

How are concepts and innovative ideas being promoted?
15:25 Synthesis Closing remarks, key take away messages
Ravi Narayanan (APWF)
Conclusion
Conclusion
Water storage is an essential component of socio-economic development. In the past water resource planning has tended to focus on large-scale built infrastructure and there is little systematic analysis of alternative options. However, the presentations in this session demonstrated the viability of innovative alternatives in different countries in Asia. Options include: i) managed aquifer recharge not just to replenish water for irrigation and urban supply but also to reduce downstream flooding; ii) management of peatland resources to protect springs and river flows; and iii) harvesting and storing storm water in urban and peri-urban environments. Under the right circumstances, these alternatives are viable from economic, social and environmental perspectives. In all cases, successful implementation depends not just on technical know-how but also on establishing the right institutional arrangements, building trust within local communities and other stakeholders and capacity building. A key element of up-scaling is influencing the programs and policies of local, regional and, in some cases, national government. Future population growth, increased economic activity and climate change will all increase the importance of water storage across Asia. Natural alternatives, integrated within water resource systems, can contribute to the multiple goals of poverty reduction, water-food-energy security, biodiversity conservation and climate resilience.
Recommendations

Throughout Asia closer attention needs to be paid to future water storage. In contrast to the past, planning needs to be more integrated across scales with much greater consideration of possible alternative storage options and the potential complementarities between them.
Research needs to be conducted to better understand different storage options not just under different biophysical conditions but also socio-economic circumstances. In particular the implications and opportunities for scaling-up the types of interventions presented in this session need to be determined.

Initiatives
The Water Land and Ecosystems initiative of the CGIAR conducts research that aims to better manage water variability, minimizing damage and maximizing opportunities. A key element of this work is identifying and evaluating ways of improving the planning and management of natural and built infrastructure, and co-dependencies between them.
The Global Resilience Partnership (GRP)'s funded the Roads for Water Intiaitive which repurposes roads, in Africa and Asia, to capture water run off during rain events thereby enabling water storage for farming communities, decreasing road maintance costs and ultimately ensuring that road construction efforts produce multiple benefits for all.