Australian Water Partnership / CGIAR Research Program on Water, Land and Ecosystems / CRC-Water Sensitive Cities / Water Future
Building Watershed Resilience and Community Collaboration under Climate Change
Wednesday 29 August | 11.00-12.30 | Room: NL 357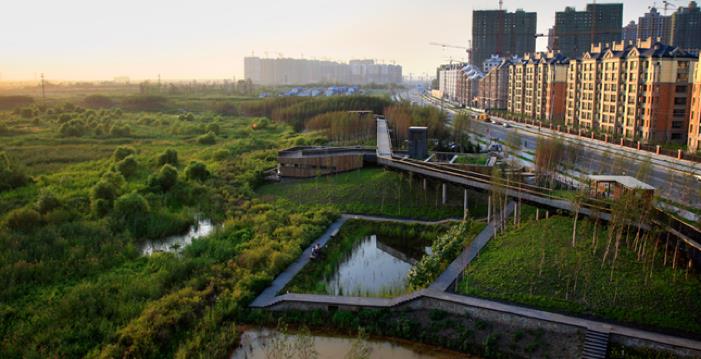 Today, watersheds lack resilience to extreme weather events. Within the context of increasing urbanisation, cities and towns are also becoming an integral part of watersheds. Climatic extremes of floods and droughts, and degrading environmental qualities are urban water challenges faced by cities.
The introduction of nature-based solutions presents a way of building watershed resilience through multi-function infrastructure for integrated water resource management. At a whole-of-basin scale, nature-based solutions may be directed at nature conservation, reforestation and restoration of degraded ecosystems. In an urbanisation context, the focus could shift to rehabilitation of degraded environments and the biomimicry for embedding natural capitals into the built form.
In order to invest in natural infrastructure, we need a good understanding of the cause of the problem, what actions are effective, and where they will have the greatest benefit, and how strengthening social resilience may complement investment in infrastructure.
This session features presentations from multidisciplinary experts and showcases different case studies in building social and infrastructural resilience. It discusses i) the watershed -integrated agro-ecological landscape resilience building, ii) water security resilience building in the context urban environment iii) financing–cost mechanisms with a focus on low-income livelihoods systems, and iv) building social and infrastructural resilience.
Programme
11:00 Introduction
Dr Anik Bhaduri – Director, Water Future
11:10 Keynote: Decision‐Making for Systemic Water Risks: Insights From a Participatory Risk Assessment Process in Vietnam
Dr Claudia Ringler – Deputy Director of Environment and Production Technology Division, IFPRI
11:20 Keynote: Opportunities in building resilience in degraded watersheds: experience from the field in an African context
Prof Jennie Barron – Co-Leader, Water, Land and Ecosystems, CGIAR
11:30 Keynote: Building water security resilience in urban environments
Prof Tony Wong – CEO, Cooperative Research Centre for Water Sensitive Cities (CRCWSC)
11:40 Panel discussion: Exploring beneficial actions for community, economy and environment
Dr Marian Neal, AWP (Panel Moderator)
Dr Claudia Ringler, IFPRI
Jennie Barron, CGIAR
Prof Tony Wong, CRCWSC
Dr Anik Bhaduri, Water Future

12:20 Summary and Next Steps

12:30 Session close