Stockholm International Water Institute
Stockholm Water Prize Symposium-Balancing Green and Grey part 1
Wednesday 29 August | 09.00-10.00 | Room: NL Pillar Hall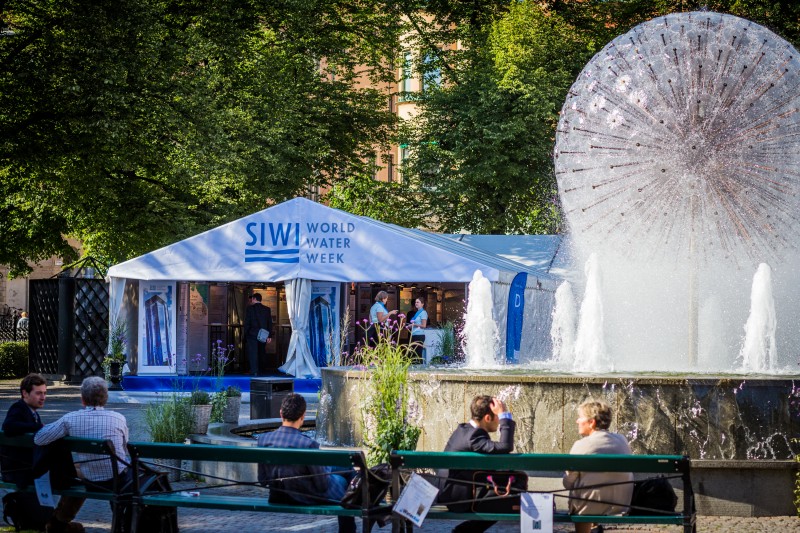 This Symposium celebrates the 2018 Stockholm Water Prize Laureates, Professors Bruce Rittmann and Mark van Loosdrecht. The theme for the 2018 symposium focuses on balancing green and grey infrastructure in water management. A wonderful thing about these green infrastructure solutions is that they are inherently multi-functional. Grey infrastructure in the form of dams, levees, pipes and canals, are very efficient at fulfilling a single purpose, such as transporting water. The point is that it isn't a question of either/or. We need both green or grey, and we need to be wise in choosing what serves our current and potential future set of purposes best. To make sure that this deliberation takes place, we need governance systems that help us by posing the right questions and by incentivizing behaviours that align individual desires with societal good.
The Founders of the Stockholm Water Prize are: Bacardi, Europeiska ERV, Poul Due Jensen Foundation, Ragn-Sells, Water Environment Federation, Xylem and Ålandsbanken
Please note that according to the etiquette rules, one should not leave a Royal event before the Royals.
Gold standard events are committed to ensure the gender balance in speakers/panellists and young professional representation in the session.
Programme
Programme for Symposium
H.M. King Carl XVI Gustaf and of H.R.H. Crown Princess Victoria of Sweden will be present at the Stockholm Water Prize Symposium-Balancing Green and Grey in NL Pillar Hall.
All participants of the sessions are kindly requested to arrive in good time, as the doors will be closed as soon as the Royals have entered the conference room (due to security reasons).
09:00 Seats are taken
09:01 H.M. King Carl XVI Gustaf and H.R.H. Crown Princess Victoria of Sweden arrive
09:03 Welcome and introduction to session by moderator, Dr Sjömander Magnusson, SIWI
09:10 Shared lecture: Prof Bruce Rittmann and Prof Mark van Loosdrecht, 2018 SWP Laureates - "With help from our little friends" / "Managing microbes"
09:30 Dr Sunita Narain, Centre for Science and Environment (CSE), India – "Large-scale water-related nature-based solutions"
09:0 Dr Claudia Sadoff, Director General, IWMI - "What is a wetland worth?"
09:50 Moderator informing about program after the coffee break and welcome people back
09:55 H.M. King Carl XVI Gustaf and H.R.H. Crown Princess Victoria of Sweden leave for the coffee break (Please note that according to the etiquette rules, one should not leave a Royal event before the Royals)
10:00 Coffee break
10:00 H.M. King Carl XVI Gustaf and H.R.H. Crown Princess Victoria of Sweden return
10.33 Moderator Dr Therese Sjömander Magnusson, SIWI
10:37 Mrs Audrey Azoulay, Director-General, UNESCO – "Convening power around water issues"
10:47 "Management required to achieve the correct balance between gray and green infra" - Moderated Panel Discussion- four speakers are invited up on stage and the moderator leads the discussion that is hoped to be interactive with the audiences
11:37 All panellists get two minutes to conclude the Panel
11:47 Concluding remarks and thanks from moderator
11:57 H.M. King Carl XVI Gustaf and H.R.H. Crown Princess Victoria of Sweden leave (Please note that according to the etiquette rules, one should not leave a Royal event before the Royals)
12:00 End of Symposium