Deutsche Gesellschaft für Internationale Zusammenarbeit / Global Water Partnership / Stockholm International Water Institute / Swedish Institute Alexandria / The Church of Sweden / The World Council of Churches
Water and Faith: Acting in Partnership to achieve SDG 6
Thursday 30 August | 11.00-11.45 | Room: FH Cabaret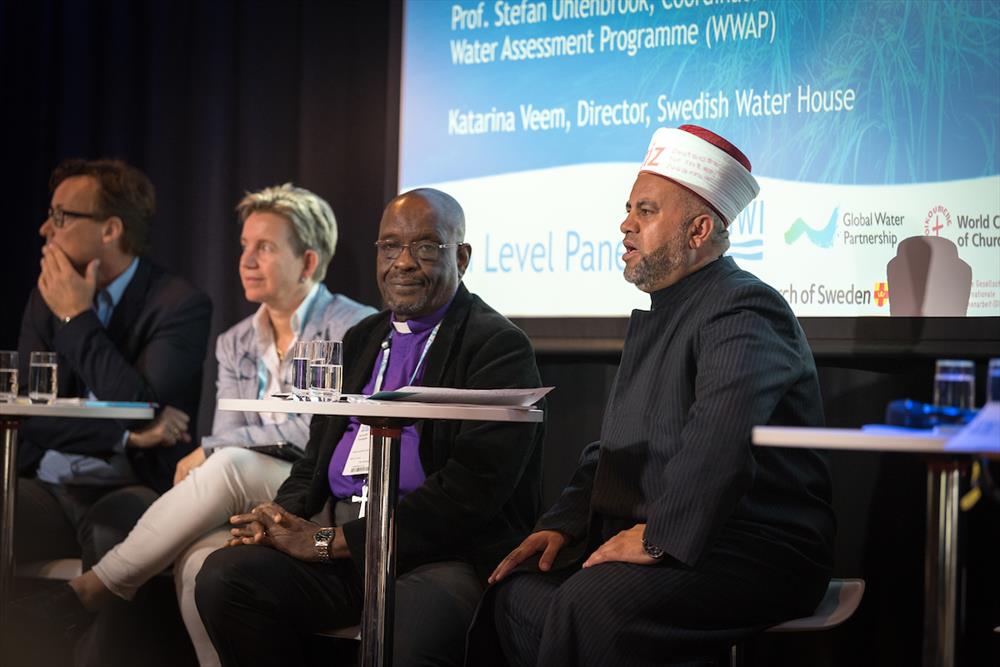 To achieve the SDGs in just 12 years requires strong partnerships. Faith and spirituality are foundational sources and drivers of behavior; shaping and inspiring individual and community worldviews, priorities, daily rituals and community structures – including relationship to and value of water resources. Moreover, in rural and remote locations, or where governments are unable or otherwise fail to provide essential services, faith-based organizations and networks are often relied upon to fill essential service gaps.
This Showcase will feature a panel of high-level faith leaders and wise water management champions active in working to achieve SDG 6 through inclusive partnerships. Expert panelist comments will be followed by an opportunity for questions from the audience. The session will conclude with a call for partnership and engagement in a Water and faith working group in Sweden and globally.
Gold standard events are committed to ensure the gender balance in speakers/panellists and young professional representation in the session.
Programme
11:00-11:05 Welcome and Introduction
Dinesh Suna, Programme Executive/Coordinator, Ecumenical Water Network (EWN), World Council of Churches
Video message from Rev. Dr Olav Fykse Tveit, General Secretary, World Council of Churches
11:05-11:30 High Level Panel: (5 minute statements each)

Facilitated by Elizabeth Yaari, Senior Program Manager, Transboundary Water Management, Stockholm International Water Institute; and Francois Brikke, Senior Network Officer, Global Water Partnership
Bishop Arnold Temple, Chairperson of Ecumenical Water Network of World Council of Churches
Mufti Mohammad Zoubi, Mufti of Amman, Jordan
Vatican Representative (tbc)
Dr Monika Weber-Fahr, Executive Secretary, Global Water Partnership

Prof. Stefan Uhlenbrook, Coordinator and Director, UNESCO World Water Assessment Programme (WWAP)

Ms Katarina Veem, Director, Swedish Water House
11:30-11:40 Audience Questions and Answers

11:40-11:45 Invitation for Partnership
Kristina Johansson, Programme Officer, Swedish Water House, Stockholm International Water Institute
This showcase programme will be followed by additional Water and Faith network activities for interested participants and partners. For more information and to register to participate in additional Water and Faith activities during World Water Week please contact elizabeth.yaari@siwi.org.

Conclusion
During the 2018 World Water Week, the Water and Faith consortium partners including: the Stockholm International Water Institute (SIWI), World Council of Churches (WCC), Global Water Partnership (GWP), the Church of Sweden, Swedish Institute Alexandria and GIZ organized a series of events and activities to bring key water professional and faith-based development actors together to create a shared space for dialogue and partnership development.
Highlight events from World Water Week included a public Showcase entitled 'Water and Faith: Acting in Partnership to Achieve SDG 6', two public SIWI Sofa video recordings and livestreamed events, and a closed high-level meeting. Each event was designed to elevate key messages around water and faith partnership with implementation partners to raise interest and attention to the shared efforts to achieve SDG 6.
As the third annual Water and Faith event at the World Water Week, this year emphasized joint action between the various faith based organisations (FBOs) and also between the FBOs and water sector representatives involved such as the SIWI, GWP etc. The following were some of the concrete outcome of the showcase and the closed meetings that followed.
• A decision was taken to undertake evidence-based research and documentation of good practices on water issues by the faith communities.
• To expand the collaborations with faith based organizations (FBOs) by the water sectors.
• To present the water community at the next World Water Week with concrete examples of collaborations and impacts on water issues between the water sector and FBOs.
• To contribute to the Synthesis Report on SDG6 by the World Water Assessment Programme on contributions of the faith communities in addressing water crisis.
• To explore possibilities of attracting investments from faith communities and religious bodies for "impact investment" on water sector, in line with the "Faith and Finance" guidelines developed at a consultation in Zug, Switzerland