Deutsche Gesellschaft für Internationale Zusammenarbeit / IRC / The World Bank Group / Water.org
Getting the foundations right for sustainable and pro-poor financial solutions
Sunday 25 August | 16.00-17.30 | Room: M2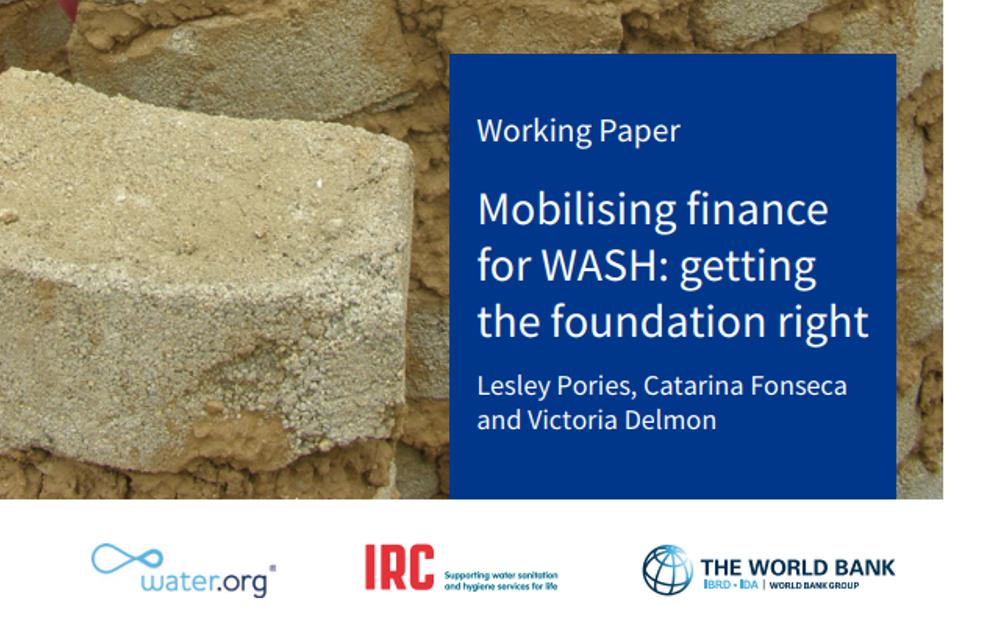 Shortcomings that undermine the sector's ability to attract finance include underdeveloped national financial sectors; a lack of vision by governments to seek alternative sources of finance; ineffective regulation; low cost recovery; weak governance; mismatch of supply and demand of finance, low service provision and operational efficiency of urban and rural WASH service providers; and a lack of anti-corruption measures.
Furthermore, often the bulk of investments needed to fulfill the SDG mandate to leave no one behind and reach the poorest are for supply of water and sanitation to more remote, poorer or less urbanised neighborhoods and for sanitation, which are likely to be less commercially viable.
To manage some of these challenges and make the sector more attractive to commercial finance, stakeholders within the WASH community have begun developing blended finance mechanisms. These are designed to pool public and donor funds to catalyse private investment in developing countries by de-risking individual projects and schemes.
This session will unpack the foundational issues around the "enabling environment" for WASH finance, draw attention to unintended negative consequences of Business as Usual, and highlight real examples of how sector innovators are tackling these barriers to sustainability.
Gold standard events are committed to ensure the gender balance in speakers/panellists and young professional representation in the session.
Programme
16:00 Introduction by moderators
Regina Rossmann, GIZ
Lesley Pories, Water.org
Catarina Fonseca, IRC and
Elynn Walter, IRC
16:10 Game-show format with interactive participation from three different stakeholder groups
Government
Joseph Oriono Eyatu, Commissioner Rural Water and Sanitation, Government of Uganda (tbc)
Wenceslas Koita, Ministry of Finance, Government of Burkina Faso (tbc)
Service providers
Pak Yulianto, PDAM District of Batang, Indonesia (Perusahaan Daerah Air Minum/Local Drinking Water Company)
Christophe Zanze, ONEA, Burkina Faso (tbc)
Providers of finance
Christopher Flensbourg, SEB (tbc)
Paulo de Bolle, IFC (tbc)
Jennifer Sara, World Bank
Dwinita Wulandini, Water.org
17:30 End of session